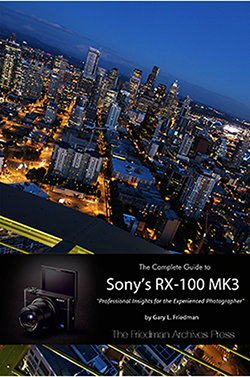 .
All RX100M3 owners can now buy a great book to learn more about their camera. Gary Friedmann just released the complete RX100m3 guide available in DRM-free, .pdf, .mobi, and .epub (and a new process for creating the e-reader formats resulting in superior user experiences!) available for one low price: http://friedmanarchives.com/RX-100MK3.
RX100M3 store links:
RX100M3 preorders in USA at Amazon, Adorama, BHphoto, Sony USA and FocusCamera.
RX100M3 preorders in Eu at Sony DE, UK, ES, FR, IT, NL, BE, AT, CH, SE, NO, FI, PT. And Wex UK,
RX100M3 in Asia at Amazon Japan and Sony Australia.