Image courtesy: CameraSize.
Enrique Pacheco tested the 4K performance of the Sony A7s and the Panasonic GH4. And in terms of both dynamic range and resolution the A7s outclasses the main competitor: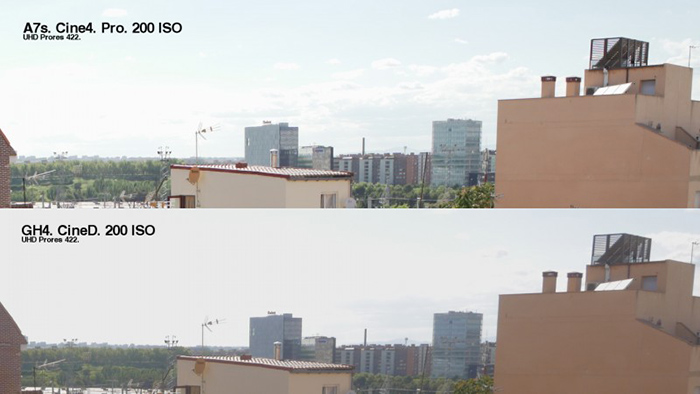 Image courtesy Enrique Pacheco and Macgregor.
The image on top shows the difference in dynamic range. Enrique writes: "
Sony A7s vs Panasonic GH4 in CINE4 mode. Pro ISO 200 the difference of detail in highlights from heaven speaks for itself.
"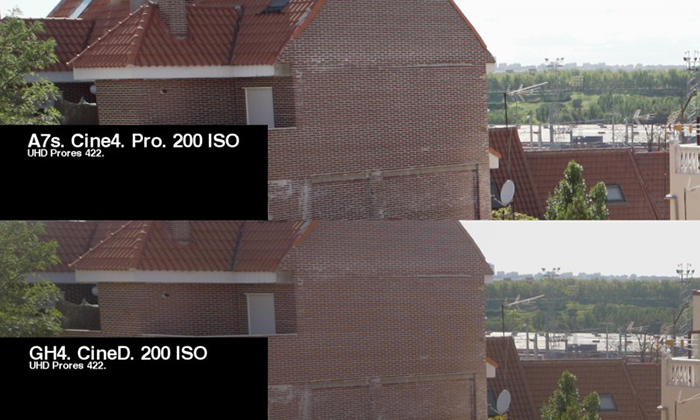 Image courtesy Enrique Pacheco and Macgregor.
And this is the resolution comparison: "Compared to the Lumix GH4, which has always been known camera with good resolution, the Sony A7s seems to deliver a clearer, sharper picture, you could say that with increased microcontraste or acutance if you're like us, having grown up with analogue. But we must also note that although the image appear sharper the A7s, actually both seem to achieve the same level of detail."
And Enriques further test also show the A7s has less moiré and less color aliasing. The GH4 advantage is far less rolling shutter (not tested by Enrique but seen in other comparisons) and the GH4 is cheaper and records 4K internally.
Sony A7s store links:
Sony A7s in USA/CA at
Amazon
,
Adorama
,
BHphoto
,
Sony USA
,
Sony Canada
.
Sony A7s in Eu at Sony
DE
,
UK
,
ES
,
FR
,
IT
,
NL
,
BE
,
AT
,
CH
,
SE
,
NO
,
FI
,
PL
. And
Wex UK
.
A7s Gariz leather case in
Black (Click here)
,
Brown (Click here)
,
Red (Click here)
and
Orange (Click here)
.