Dpreview claims the Sony A6000 is the best Interchangeable Lens Camera within the $500-800 price range.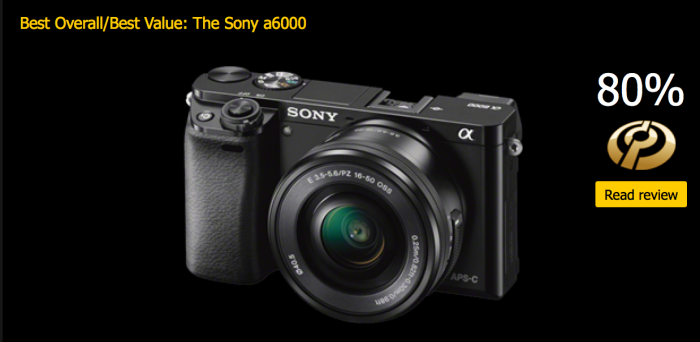 Dpreview established the Sony A6000 as the best system camera within the $500-$800 price range:
"We really cannot say enough good things about the Sony a6000. Though we have it in the $500-800 category, due to its MRSP, it can often be acquired, body only, for closer to $500. And what does that get you? AF performance in line with the best in its class, great image quality, solid video quality/features with AF and no hunting, and a nice EVF, packed into a compact, enthusiast-friendly body."
Probably that's the reason why Sony didn't hurry with the A6000 successor release. There is yet no real competition…
Sony A6000 store link list:
Sony A6000 at Amazon, Adorama, BHphoto, SonyStore. In Europe at Sony DE, UK, FR, IT, ES, AT, NL, BE, CH, FI, SE, PT, WexUK.
A6000 Gariz case on eBay in [shoplink 26006 ebay]Black (Click here)[/shoplink], [shoplink 26007 ebay]Brown (Click here)[/shoplink], [shoplink 26008 ebay]Camel (Click here)[/shoplink] and [shoplink 26009 ebay]Red (Click here)[/shoplink].