DxOmark sensor test: Nikon D850 tops the Sony A7rII by a margin of two points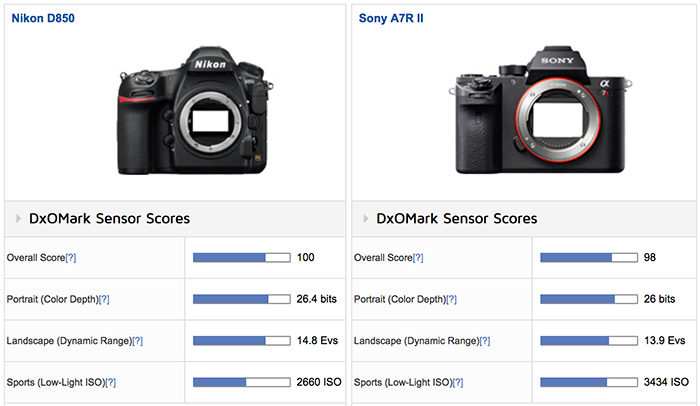 DxOmark tested the sensor of the new Nikon D850. It beats the over two years old Sony A7rII by a hair. The Sony has a better High ISO performance but it's the one stop imrpoved dynamic range performance at Low ISO that gives the Nikon the edge:
Against the Sony A7R II and Canon 5DS, the Nikon D850 offers an advantage at base ISO of around one stop against the Sony, and a massive 2.5-stop advantage over the Canon. The gaps narrow as sensitivity increases, though, so from ISO 1600 and above, the D850 and Sony A7R II offer broadly the same dynamic range, with the Sony just edging them. The Nikon and Sony both continue to offer around a one-stop advantage over the Canon for dynamic range between ISO 1600 and over the Canon 5DS's top sensitivity of ISO 12,800. So good dynamic range above or around 10 EV is possible on the Sony and Nikon up to ISO 3200, compared to ISO 1600 for the Canon.
I bet the new Sony A7rIII (or A9r) will get on top of the DxO rankings when it will be announced in 2018.