DxOmark tests the new 85mm GM lens and says it has Otus-level image quality!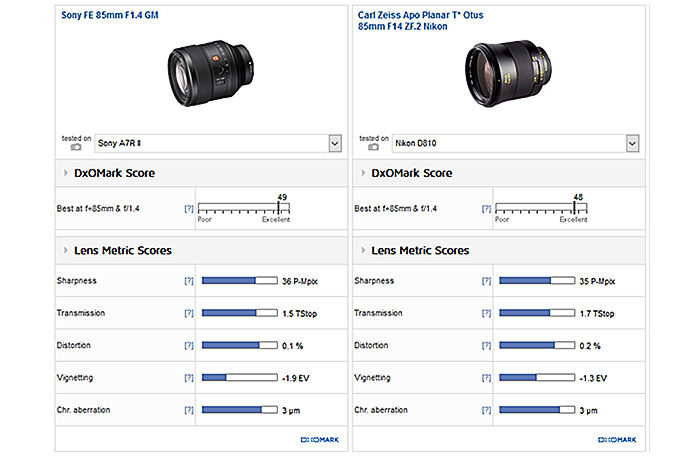 DxOmark published the full Sony 85mm GM lens test. And it says the lens has an "Otus-level image quality":
After the somewhat mixed results for the Sony FE 24-70mm f2.8 GM on the A7R, the second lens in the company's new GM series, the FE 85mm f1.4 GM, has achieved a much more convincing performance, albeit on the latest-generation Sony A7R II with its new 42-Mpix sensor. Indeed, on the newer Sony body, the 85mm f1.4 is rated at a level similar to the Zeiss Otus 85mm f1.4 (on a 36-Mpix Nikon D810), which lens is considered the benchmark in today's optics for full-frame cameras. The Batis remains an option, given its competitive price and performance, but that takes nothing away from the outstanding performance of the Sony FE 85mm f1.4 GM.
Sony 85mm GM store links to BHphoto, Amazon, Adorama, BestBuy. Amazon Germany. Calumetphoto.de. WexUK. Jessops.
The 85mm GM lens is not officially the best rated E-mount prime lens at DxO: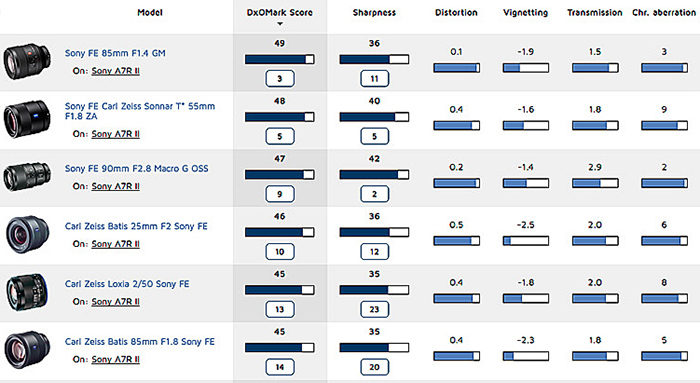 DxO also tested the 50mm f/1.8 FE lens and writes:
Sony is working hard to fill gaps in the lens lineup, and until now, an affordable 50mm lens had been sorely lacking. While it's unsurprisingly not in the same class as either the Sony Zeiss 55mm f1.8 or the Zeiss Loxia 50mm f2, its optical performance is comparable to the best of similar offerings from rivals. While there's always room for improvement—it would have been great to see better uniformity, particularly at wider apertures, for example—the Sony does stand out in several areas. It has excellent control of troublesome lateral chromatic aberration as well as class-leading low levels of distortion. If you're a stills photographer looking for a reasonably-priced 50mm with decent image quality for your Sony alpha mirrorless camera, then this model isn't likely to disappoint.
Sony 5omm store links to BHphoto. Amazon. Adorama. FocusCamera. Calumet Germany. Amazon.de. WexUK. Jessops.