(SR2) UPDATED: An impossible A6000II rumor?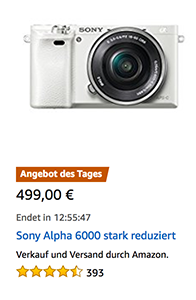 The White A6000 with kit lens sells for $499 at Amazon Germany (Click here). That's around 50-60 Euro less than the "normal" price. There is also a 30Euro discount on the 10-18mm lens.
–
(SR2) A6000II rumor:
An anonymous (and new) source keeps sending me info about a so-called A6000II. I don't know the source and for now I think this info is 90% likely to be wrong:
You might have noticed the A6000 bundles are discounted right now by $200-300 to clear stock.
Wanted to share some specs of the upcoming Sony A6000 Mark II which should be announced soon.

24mp sensor (from A6300)
Same AF system as A6300 – 425 PDAF points
Silent Shooting mode
4k Video 30fps
3″ LCD Touchscreen
2.3M dot OLED EVF
Polycarbonate body
No weather sealing
$749 body only/$849 with 16-50mm

As you can see the specs are very similar to the A6300 but it is missing weather sealing and mag-alloy body.
The chance is very low this info is correct. It would make sense though for Sony to update the A6000.
Note: I updated this post twice and I got this info from another new source:
A few weeks ago i talked to an employee of Sony. We talked about the Alpha6000 and how I wanted to use it mounted on a drone. However, he said that before the earthquake destroyed the Kumamoto factory, Sony was near to the release of an Alpha6000 successor. He didn't gave it a name, but he definitly didn't meant an Alpha6700. instead it's something like Alpha 7000 or the mentioned Alpha6000II.
I didn't wrote you this info earlier because it wasn't clear what happened with the project, but now it seem's you have more info than me and maybe this is interesting for you.