Z7 cost 500 pounds more than the A7rIII…after the hype reality kicks in :)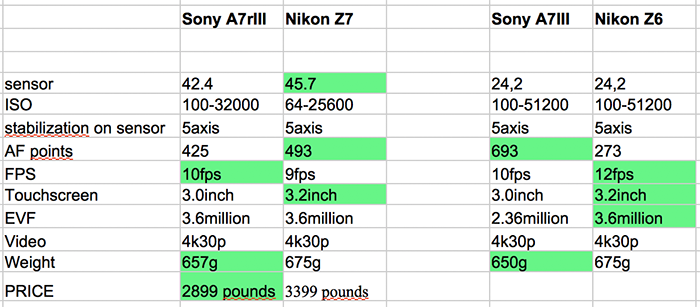 Specs leaked by Nokishita got updated with UK pricing info
We got the first Nikon Z7–Z6 versus Sony A7rIII–A7III specs comparison table. Of course we need to see how the real camera works to make a sensible comparison. Plus there are many detailed specs we still don't know. But just for fun let's analyze what we know so far:
Sony A7rIII vs Nikon Z7:
The Nikon Z7 costs 500 pounds more than the A7rIII. But from the specs it's clear the Z7 is slightly ahead in terms of autofocus points. Otherwise we are more or less on par.
But damn it, the Z7 costs really a lot more! We can expect a 400-500$ price difference in the USA.
So while Nikon was able to match the A7rIII performance we have to say the A7rIII is nearly 1 year old and cheaper! Moreover expect the Nikon to be in Stock by Christmas only. I bet a new A7rIV or A9r could be announced in 10-12 months already if Sony feels they have to create a new technological step forward.


Sony A7III vs Nikon Z6:
Both should have the exact same pricing. In that case the A7III beats the hell out of the Nikon in terms of autofocus performance while it's a bit crippled by the not so good EVF.
To sum up: The Nikon is not a Sony killer but it will certainly reach the goal to convince many Nikon DSLR shooters to buy into Nikon mirrorless instead of Sony mirrorless (aka stop or slow down the bleeding).
On the other hand Nikon DSLR owners should also consider this:
– Sony will soon launch a new A7sIII which is going to be stunning (5.6 million EVF, new sensor with much improved low light performance, new autofocus system and 4k60p).
– Sony also has E-mount APS-C cameras or cheaper second and third generation FF bodies
– 29 native E-mount lenses available now
– A history of innovation Nikon will only play catch up with. So what the A7sIII will do now Nikon can nly hope to match o 1-2 years later.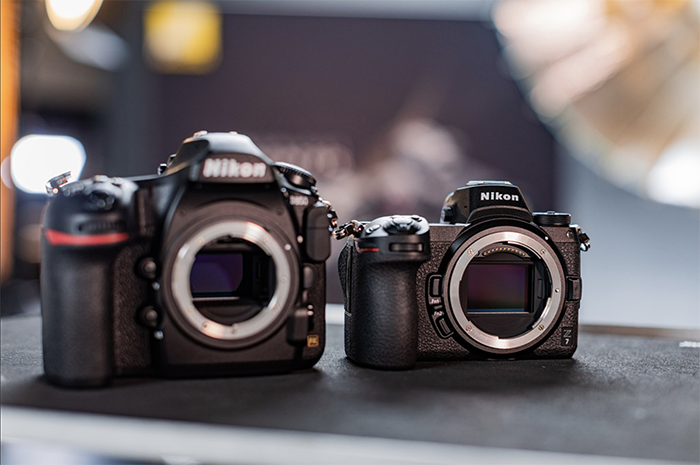 Image via Flickr, specs via Flickr and table found via Nikoneye.