First Sony 20mm f/1.8 FE G lens reviews show this is an impressive lens!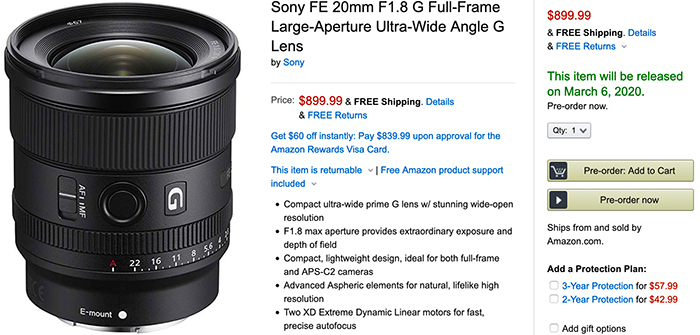 Sony 20mm f/1.8 FE G at BHphoto, Amazon, Adorama. FocusCamera. Amazon DE. Calumet DE. Amazon UK. Parkcameras UK. Amazon FR. Amazon IT. Amazon ES.

–
I finally took some time to read all reviews and tests of the new lens. It's clear that this is basically a more affordable but still very high quality version of the excellent 24mm GM lens. This is a lens I myself am considering to buy :)
Here is quick roundup of the conclusions of early testers:
All in all, this lens greatly impressed me from a technical standpoint, but the results of this still leave a few questions to be answered; does it deserve it's own spot in my camera bag? Is it THAT much different from the 24mm GM to justify a separate purchase? If I already have a lens that shoots at 20mm, is the additional aperture from f/2.8 to f/1.8 worth an additional purchase? 

For me, in every single instance, the answer is a resounding yes. This is by far one of my favorite lenses I've ever had the pleasure of using, and I have no doubts it will be by far one of the most-used lenses for me in 2020. If I wasn't lucky enough to have one sitting right beside me for the purposes of this review I would be purchasing one the absolute instant that pre-orders are available. A wide field of view, extremely fast aperture, and extraordinary sharpness, corner to corner: the holy trinity of lens requirements, all packed into the smallest and lightest body in its class. Performance that professionals used to only dream of, at a price that even beginner and intermediate shooters can appreciate. 

This is as good as it gets. 
While some may consider and use this lens as a 'fit all in' lens, I have found it to be very versatile and useful to be able to draw more of the environment into the shot when shooting a portrait. I have found the level of detail the Sony 20mm f/1.8 G lens renders to be of a high quality with no evidence of CA and high levels fo sharpness when viewed at 1:1. The ability to shoot a wide angle lens with a wide aperture opens a whole new world of perspective and photographic opportunities and the 20mm f/1.8 G lens is an excellent addition to the current Sony lens line up and will be a firm favourite for astrophotographers, concert photographers, landscapers and travel photographers.
The Sony 20mm f/1.8 G lens is a very welcome addition to Sony's growing lens lineup. It is incredibly small, weighs just 13.2 oz and produces incredibly sharp images, even on the Sony a7R IV that has a tendency to demand the highest resolving FF lenses on the market.
Very compact, tiny and light.
Very similar to the Sony 24mm f/1.4 GM
67mm filter size (same as the 24mm)
Despite being very similar to the 24mm GM, this 20mm f/1.8 is not a GM, but 'just' a G.
Great for video and vlogging
Performs well on the A7RIV
Sharpness across the frame is great on stopped down apertures
Edge sharpness suffers a bit on faster apertures (tested on the A7RIV)
Wide open f/1.8 center sharpness is impressive
Good for astrophotography with little coma and chromatic aberrations .
Silent Autofocus
Beautiful soft bokeh
Close focus distance, you can get some beautiful creative results by using it wide open and playing with depth of field.
Nice sunstar and stars around lights at night.
The Sony FE 20mm F1.8 G is a sharp, bright lens with a wide angle of view. It's a top-end performer and a fine addition to your camera kit.
German DigitalKamera (google translated):
With the FE 20 mm F1.8 G, Sony has once again achieved a very good ultra-wide-angle fixed focal length after the FE 24 mm F1.4 GM, which enriches the full-frame system in a meaningful way. With a mix of materials made of high-quality plastic and metal, as well as seals against the ingress of dust and splash water, it is robustly processed and, thanks to the many controls, including aperture ring locking that can be deactivated for video recordings, offers a wide range of possible uses. The autofocus is fast, quiet and the focusing distance is surprisingly low, which opens up very unusual perspectives. Above all, the image quality is impressive. Bokeh and backlight behavior as well as optical errors are not objectionable. The resolution in the image center is already very good from the open aperture, but for a high edge resolution, the lens should be dimmed down by around two f-stops. The highest image quality is achieved with F4. The lens is definitely worth the target price of just under 1,100 euros, especially since the street price will soon drop below the 1,000 euro mark.