Good news for US: A6000 will ship after tomorrow already! The NABshow deals roundup (BHphoto and Adorama)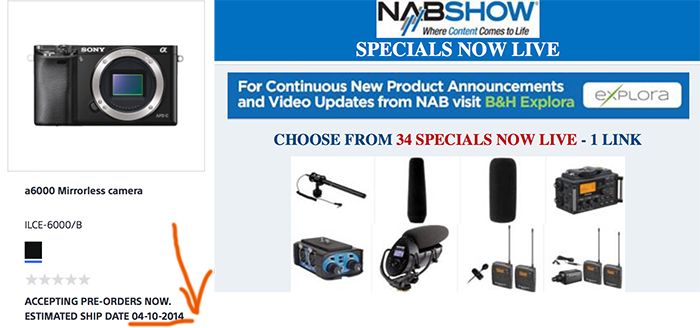 A couple of good news/deals for US readers:
1) Sony A6000 will sip earlier than expected! The A6000 will already ship after tomorrow (April 1=) according to Sony US store (Click here). About the predecessor: There is a 24 hour deal on the NEX-6 at [shoplink 25739 ebay]eBay US (Click here)[/shoplink].
2) Special NAB deals: 34 NABshow special deals now live on that BHphoto page (Click here). $20 off on the Sandisk 64 GB SDXC at BH (Click here) and $13 off on th 32 GB SDHC at BH (Click here). Up to $900 off on the Manfrott LED lights at Adorama (Click here).
Reminder: Sigma 30mm f/1.4 A-mount lens is in Stock at BHphoto (Click here).
Note: Here is a A6000 unboxing video from John Sison: