Kipon announces the world's first Medium format Hasselblad V to Sony E-mount focal length reducer adapter!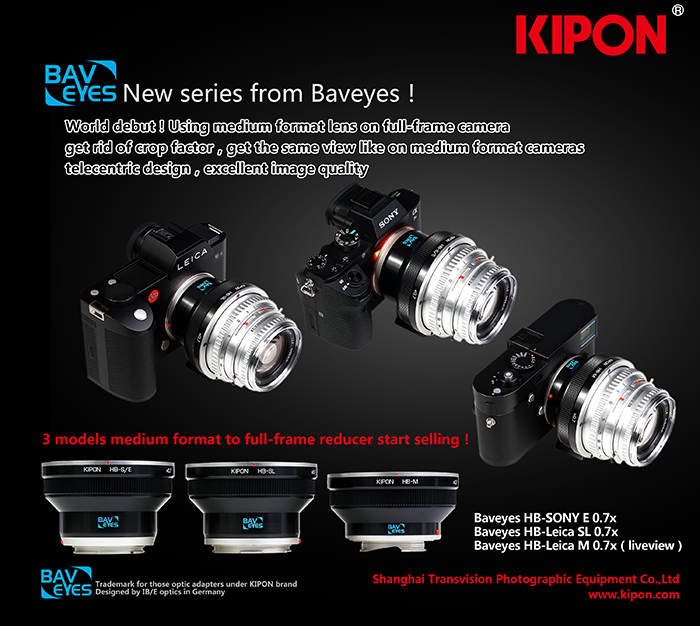 You surely know the Speedbooster concept for APS-C cameras. Well now you can have the same on Full Frame Sony E-mount cameras too! Kipon just announced a new focal length reducer adapter that allows you to use [shoplink 50188 ebay]Hasselblad V medium format lenses (here on eBay)[/shoplink] on Sony E-mount cameras. Here is the press text:
Kipon Baveyes introduces a series of three of the world's first lens adapters that bring the famous medium format Hasselblad V mount optics to Sony A7, Leica SL and Leica M 35mm full frame cameras, virtually eliminating any crop factor image loss and maintaining diagonal angle of view. Your favorite outstanding Carl Zeiss lenses, from wide angle to telephoto, ingeniously compress to a full-frame image, performing just like they were 35mm format full frame optics. The transformation results in a 0.7x factor to the original lens focal length with a gain of one stop in lens speed. Foremost in the advanced adapters, is the custom designed five element multicoated formula by German optics research institution IB/E OPTICS, with the ability to use full frame SLR lenses on crop sensor camera bodies and mirrorless cameras. The Baveyes tele-centric formula is exclusively designed by IB/E Optics in Germany to only the utmost precision and quality. Hasselblad lenses by Carl Zeiss are legendary for contrast, flare resistance, color saturation, bokeh and are in a class of their own compared to even the best 35mm format glass. And the Sony and Leica image sensors, in the heart of their robust camera bodies, give new life to the Hasselblad/Zeiss heritage.
The adapter will be soon available [shoplink 50187 ebay]trough eBay sellers[/shoplink].