Free new Update to Luminar 2018 Brings Snappier Performance, Camera/Lens Profiles, Batch Processing and more!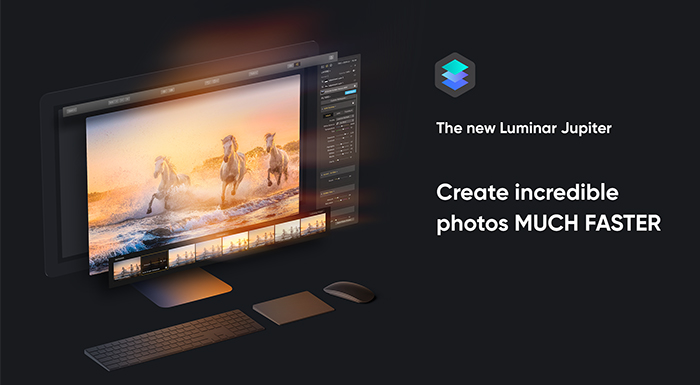 Skylum released the update for Luminar 2018 named "Jupiter". It includes major new features like Camera and Lens Profiles, Batch Processing and a Free Transform tool to the Windows version.
If you plan to buy Luminar use the coupon code "SAR" you will get $10 off:
– The update is free for all current users of Luminar 2018.
– Current users of Luminar 2017 may upgrade for $49 ($39 with your coupon code);
– New users can purchase Luminar 2018 for $69 ($59 with your coupon code);
Luminar 2018 link: https://macphun.evyy.net/c/60087/320119/3255.
Luminar 2018 link to the Trial page: https://macphun.evyy.net/c/60087/339971/3255
Press text:
New Update to Luminar 2018 Brings Snappier Performance
Luminar Jupiter is now 3x faster and more responsive, and gets new pro features and over 300 other improvements.
Bellevue, WA – April 12, 2018 — Skylum Software today released the latest free update to Luminar 2018 which brings significant performance enhancements, improved RAW conversion and key-feature parity of Mac and Windows version with Batch processing, Free Transform, and Flip and Rotate features on Windows. Dubbed the "Jupiter" release, this latest version allows users to edit photos much faster with better quality results.
While enhancing speed and overall app performance was the major focus for the Jupiter update, Skylum also dramatically improved the RAW Develop filter with new tech to provide better color and less noise, plus incorporated automatic lens distortion removal. The result is a superior, cleaner starting image, ready for further editing.
"Our loyal community of users continues to offer ideas for new features that would benefit their respective workflows, and we'll keep on listening, learning and improving our products," said Alex Tsepko, CEO of Skylum. "Our goal is to produce fast, easy, and feature-rich imaging software that can offer both single-click solutions as well as custom functions for those who want absolute control."
Many photographers are looking for two things to make their editing workflow more efficient: first is a high-quality RAW converter to unlock the best image their camera has produced; one that's rich in detail and color, while free from noise and artifacts. The second is speed – a responsive application that matches pace with a photographers workflow, and makes it easy to edit photos to look their best, is one that will be the #1 choice. Luminar Jupiter brings both qualities to photographers of any skill level.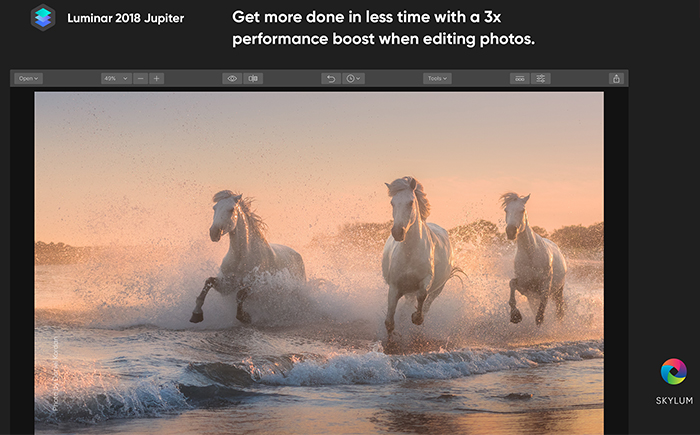 WHAT'S NEW
Speed improvements to get more done in less time
Skylum has dramatically increased the speed of editing across all areas of Luminar. Now images open faster, filters apply quicker, and the entire application is more responsive.
1. Most users will see snappier sliders as they've gained performance boosts of 3-25x for easier adjustments.
2. Luminar better uses the operating system for faster performance, with many operations seeing significant boosts.
Luminar Jupiter also got numerous interface and user experience improvements based on users' feedback for an improved editing experience. The new version has several "under-the-hood" enhancements to add stability as well as to improve performance when editing even the largest of images.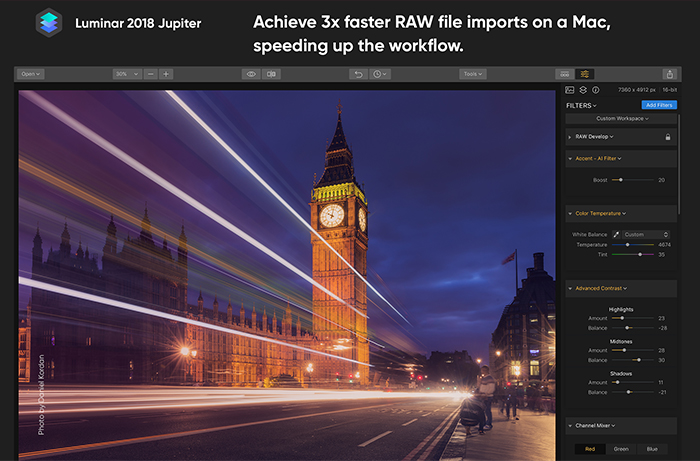 Better RAW conversion
Better exposure calculation. Refined initial brightness setting for RAW files produces a perfect match to how a camera saw the scene.
Cleaner gradients. Improved de-mosaic process for even cleaner image conversion, i.e. smooth transitions in areas like skies and shadows for accurate color and less noise.
Fewer halos. If an image has high contrast areas, the improved Defringe option will help with backlit areas or strong contrast.
More cameras, better compatibility. Now even more RAW formats can be edited natively with the RAW Develop filter. Plus, a large set of existing camera modules have been refined for even better RAW conversion.
Reduced chromatic aberration. If a lens shows color artifacts in high contrast or backlit areas, the new Auto Chromatic aberration removal option will help to get rid of green and cyan shifts.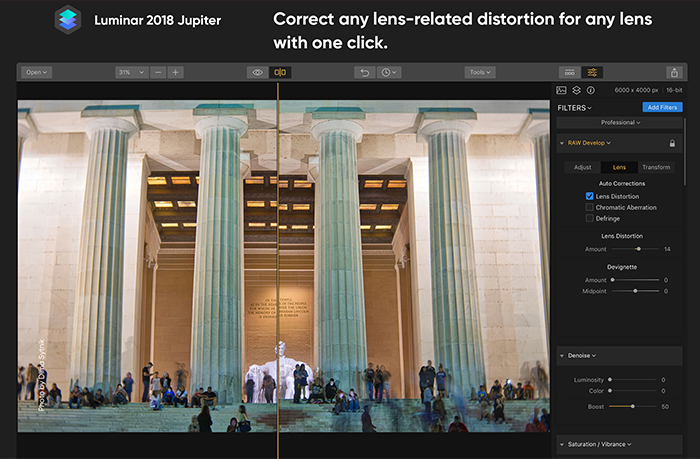 Automatic lens distortion removal
Getting the perfect shot is now easier than ever. The RAW Develop filter analyzes an image and its metadata to calculate an Automatic Lens Distortion fix that can be applied in one-click. This is a perfect tool to get rid of wide angle distortion and get truer perspective lines and more attractive portraits.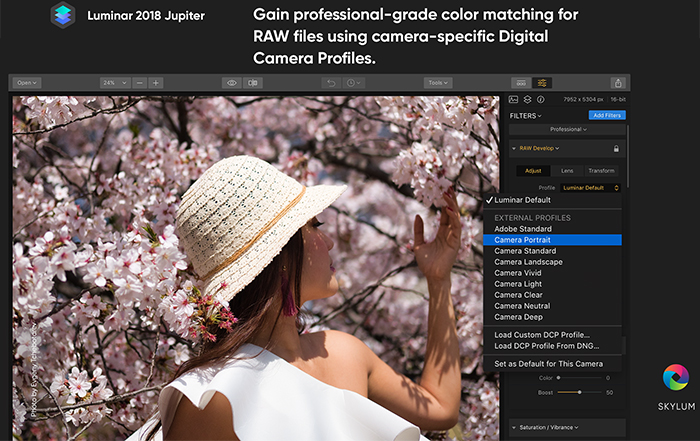 Advanced support for DCP Profiles
Luminar recognizes the industry standard DNG Camera Profile, or "DCP" files, that users may already have on their computers (or have purchased from third parties) to ensure accurate and consistent colors. Users will also be able to use DCP profiles from DNG files. This feature is currently available for Mac and will be available soon for Windows.
Essential New Features for Windows Users
The Skylum team has put a lot of effort into making the Windows experience be world-class and significantly faster. In fact, the PC version now matches the Mac version for all core features with Batch Processing, Free Transform and Flip and Rotate tools.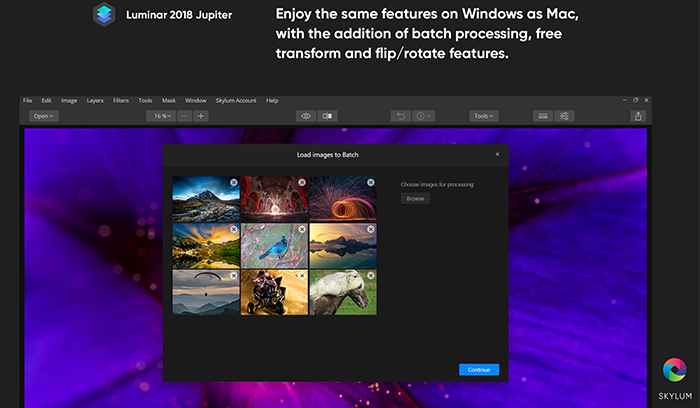 What's new:
MAC:
Fast RAW opening;

Super fast image editing and adjusting;

Faster image export;

DCP Profiles support;

Automatic Lens Correction (fix Lens Distortion, remove Chromatic Aberration and Defringe);

Enhanced image quality on image view – most of the demosaic and green equilibration issues have been fixed;

Big number of stability fixes;

UI and UX improvements;

Localisations updated (German, Japanese, Chinese & more).
WINDOWS:
Super fast image editing and adjusting;

Faster image export;

Batch processing feature;

Free transform image feature;

Flip/Rotate image feature;

Automatic Lens Correction (fix Lens Distortion, remove Chromatic Aberration and Defringe)

Big number of stability fixes;

UI and UX improvements;

Localisations updated;

Added ability to change localisation language in the application main menu;

Fixes with color profiles on export/in plugin mode;

Preview mode feature added (F hotkey);

Enhanced image quality on image view – fixed most of demosaic and green equilibration.