New Commlite Nikon F to Sony E-mount autofocus adapter announced (Version 0.5)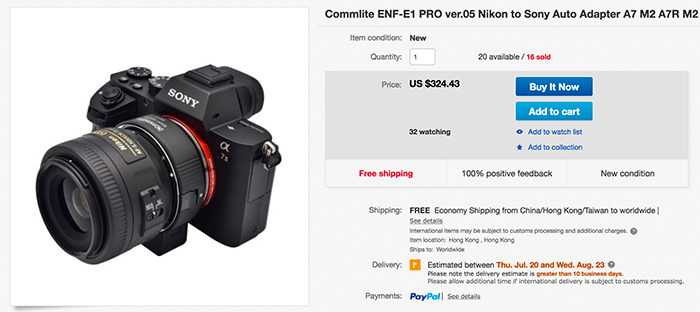 [/shoplink]
Commlite announced a new 0.5 version of their [shoplink 60429 ebay]Nikon F to Sony E-mount autofocus adapter (here on eBay)[/shoplink]. This is a hardware modified version with a new firmware that won't be available on the 0.4 model. These are the updates:
-New design on aperture motor and gears to improve aperture accuracy
-New housing design to fit Tamron 24-70 G1 and Nikon PC lenses
– Note the 0.5 version does yet not support the A9 (future firmware update 0.6 will add support)
The video below shows how the adapter works with the new firmware.
You can buy the Commlite 0.4 version at Amazon US, Amazon DE, Amazon UK, Amazon FR, Amazon IT, Amazon ES or via many [shoplink 47877 ebay]eBay sellers (Click here)[/shoplink].