New Sony FE lenses coming soon (portrait prime, fast zooms and telephoto lens).
A month ago Sony announced that 8 new FE lenses will be available til Spring 2016. And their roadmap hinted multiple releases in autumn but Sony skipped the chance to show them at the PhotoPlus event. Don't know the reason for the delay but lately we saw Sony announcing stuff AFTER the big shows. Probably to get some more spotlight from the press. And Sony also recognized in a Dpreview that they have to fulfill some urgent customers demand. And maybe that's why it's taking a bit longer for them to announce those lenses.
But I am sure we will get some news from Sony soon. Here is what we know so far about the upcoming new FE lenses: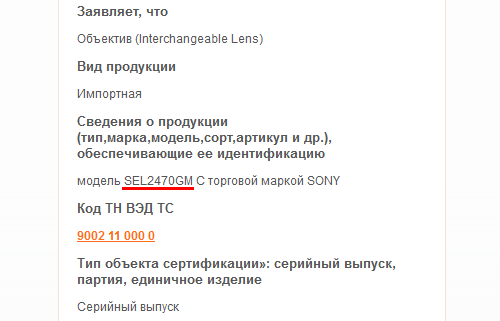 1) SEL2470 GM
Back in August Sony registered the new "SEL2470 GM" lens at a russian public agency (spotted by Digicameinfo). Usually such registrations do happen 2-3 months before the announcement. it's unclear yet what that "GM" definition is for.
2) Fast F/1.4 portrait prime lens:
The German Journalist Martin Vieten had a meeting with Sony Germany. And Sony told him confirmed to him that "there will be many new fast primes" and "One of the new fast primes should be a portrait lens (around 90mm)."
3) Fast f/2.8 zooms.
Sony manager Kimio Maki told Dpreview that "our next lenses will be at the upper end of the lineup." And "a F2.8 lineup is necessary, and brighter [primes].".
4) Telephoto lens.
The same source who shared correct Batis and Loxia rumors also said Sony is working on the launch of at least one premium telephoto FE lens.
–
As I reported yesterday Sony has a product announcement event scheduled for end of next week. But it's unclear yet if they will announce the A68 only or also give us un updated FE lens roadmap. I really do hope there is no delay on all those rumored fast prime, fast zoom and telephoto lenses!