New Zeiss Loxia 25mm in Stock at Amazon and FocusCamera (and tested by Fred Miranda)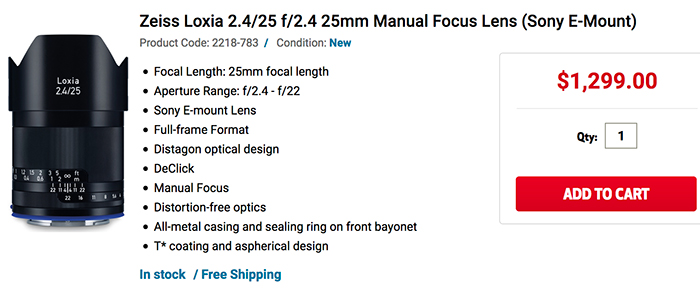 The new Loxia 25mm lens is in Stock for the first time in the USA via Amazon and FocusCamera.
Fred Miranda tested the lens and compared it's performance with the Loxia 21mm lens. Check it out!
–
Reminder:
Today Phase One released a major software update for Capture One. It also adds two specific new Sony features:
RAW files support for the A7III andnew lens profiles for the 24-105mm FF and 18-135mm E-mount lenses.
Capture Pilot 2.0 adds camera control support for Sony, allowing users to change camera settings of the tethered camera directly from your iOS device.
Below you can find the full press text. Keep in mind you get a 10% discount on Capture One 11 (Click here) and Capture One 11 for Sony (Click here) by using our coupon code "AMBSAR".