NEX-7 removed from Amazon due "manufactoring concerns"!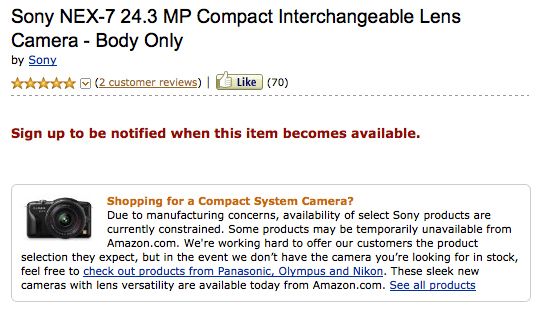 After the Tsunami in Japan now we even had the immense flood in Thailand. It is still difficult to get some info about the effects on the Sony camera production but the bad news today is a unique message from Amazon US (Click here to read it on their website). They removed the NEX-7 preorder option and said that: "Due to manufacturing concerns, availability of select Sony products are currently constrained. Some products may be temporarily unavailable from Amazon.com. We're working hard to offer our customers the product selection they expect, but in the event we don't have the camera you're looking for in stock, feel free to check out products from Panasonic, Olympus and Nikon. These sleek new cameras with lens versatility are available today from Amazon.com. See all products".
As you see not only due they remove the preorder option, they also invite you to buy Micro Four Thirds or Nikon cameras instead! I have a much better suggestion. Get the amazing NEX-5n instead! Click these search links to check the price at [shopcountry 8452]. As you see it is in Stock everywhere! No need to get the Nikon instead ;)
Anyway, I hope to get some reliable news about the NEX-7 shipment delay. But honestly, I fear the worst…which means no NEX-7 for Christmas!