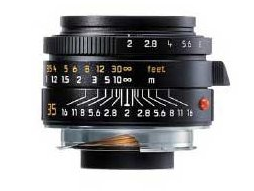 Today I want to start a new SonyAlphaRumors section. As you know many manufactors are building more and more adapters for E-mount cameras. Now you can use almost every lens on your NEX! I thought it would be nice if you would share your experience with non-Sony lenses like Leica or Canon FD lenses and more. I would be happy if you send me your images taken with third party lenses and also some nice cameraporn pictures :)
There is a growing number of different Leica M-mount to E-mount adapters (just click here to check out the whole list on eBay). So let's start with a very cute high-quality but also not to expensive lens (for Leica standards). The Leica Summicron 35mm f/2.0. I searched for image samples of that lens on a NEX cameras and I found some on Flickr here and here. Those pictures are very nice and I would love to see more of them. I also can't wait to find a picture of that lens attached on the NEX. If you have some feel free to send me images and links at sonyalpharumors@gmail.com.
If you want to get the lens click here to see current Summicron 35mm auctions on eBay. The lens is available in silver and black. You can also buy the Summicron directly at Amazon
.