2017 Nikkei report: Sony now has a 13.3% market share in the system camera market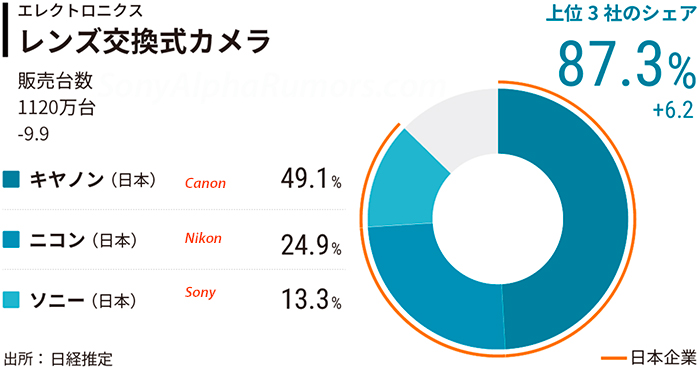 The market share in the system camera market (2017)
Nikkei published the 2017 market share report for different categories. Let's check some of the them:
Sony has a 13.3% market share in the system camera market. Nikkei writes (google translated text):
The interchangeable lens camera is an oligopolistic market where Canon, Nikon, Sony and Japan hold the market share of less than 90%, but the SLR is continuing to decline. SAR
In 18 years, the move of each company to accelerate the concentration of development resources to luxury mirrorless is likely to accelerate.
Interesting to note that the three leaders together increased their market share by +6.2% at the cost of the other manufacturers (Fuj-Olympus-Panasonic-Pentax). Sony did growth by 2,9% in a year to year basis and is getting closer to Nikon. Still Canon did grow faster with 3.9%.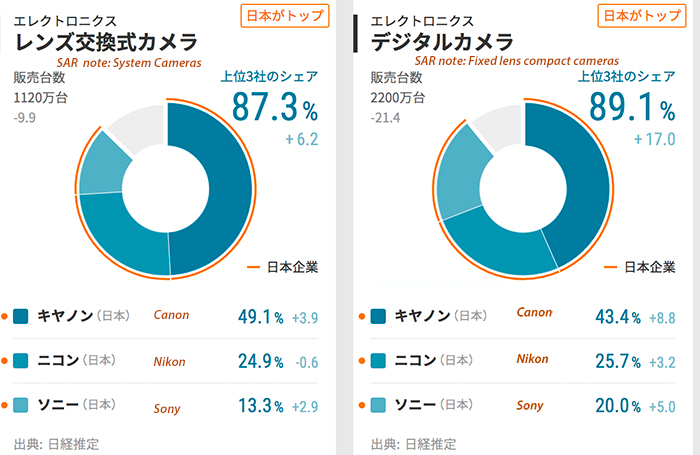 2) Sony has 20% share of the overall camera market (system+compact cameras). Sony's gap with Nikon is much closer with just 5,7% share difference.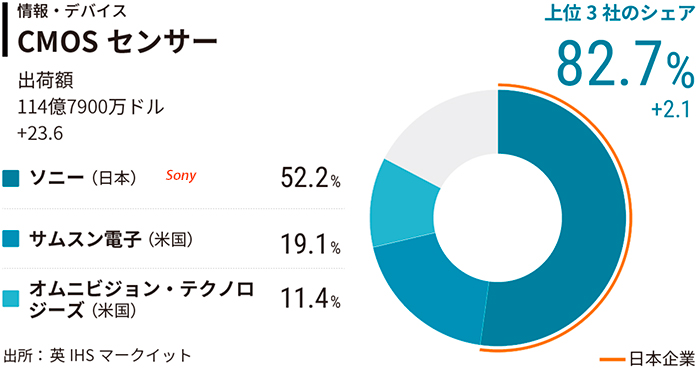 In the CMOS sensor segment Sony owns a 52,2% market share. Nikkei writes (google translated text):
Sony's single win is continuing for the CMOS sensor. With the trend of strengthening the camera function of smartphones, the market size in 2017 has expanded by more than 20%. For the future, attention will be paid to automobiles, such as high-sensitivity sensors that can recognize obstacles even in the dark.