Nikkei: Sony to supply Apple with advanced image sensor for next iPhone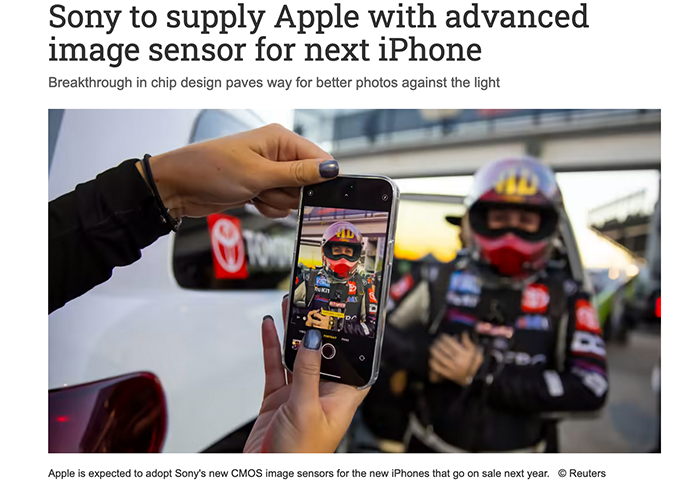 Nikkei reports:
Sony Group will supply Apple with its latest state-of-the-art image sensor, Nikkei has learned, with the component expected to feature in the next series of iPhones that go on sale next year. Sony Semiconductor Solutions developed the new image sensor, which the group company will manufacture at its Nagasaki plant and begin shipping to Apple and other smartphone makers.
There is no info about the possible specs of the new sensors but Petapixel writes:
According to the report, Sony's new image sensor doubles the saturation signal level in each pixel which allows it to capture more light while also allowing it to reduce overexposure or underexposure in certain settings. As a result, the sensor is capable of not only better low-light performance, but it is better able to meter starkly different exposures, such as a face that is heavily backlit by the sun.

The name of the sensor was not included in Nikkei Asia's report, but the description provided matches a sensor design Sony first revealed almost a year ago. In December of 2021, the company announced that it had created the world's first stacked CMOS image sensor technology that uses two-layer transistor pixels — a design that doubles the light-gathering capability.
Reminder: A couple of months ago Nikkei reported the following statement from Mr Terushi Shimizu (Sony):
"We expect that still images will exceed the image quality of single-lens reflex cameras within the next few years."
I believe Mr. Terushi to be way too optimistic in his prediction! What do you think?