DigitalCameraWorld claims the new Sony FX30 is a bombshell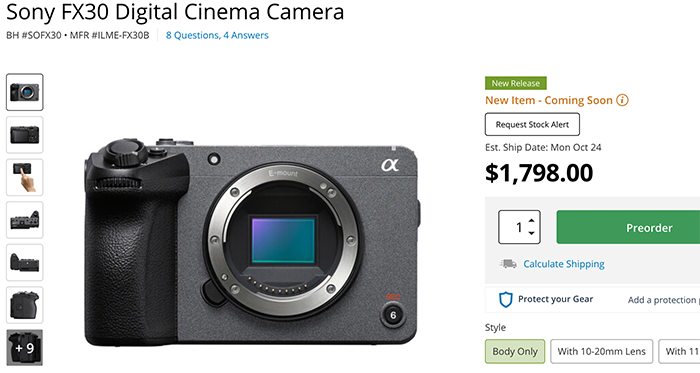 FX30 Preorders:
USA at BHphoto, Adorama, Amazon.
EU at Amazon, FotoKoch, FotoErhardt, Calumet, WexUk.
Sony 320GB CFexpress Type A at BHphoto. Sony 640GB CFexpress Type A at BHphoto. Sony XLR-H1 Handle Unit at BHphoto.
Digicamworld reviewed the FX30 and calls it a "bombshell":
It's always risky giving a camera a 5-star rating based on a fairly limited acquaintance, but unless something dreadful crawls out of the woodwork that we don't know about yet, the FX30 deserves it. This is a full-on cinema camera at a mirrorless camera price point, and perfectly positioned to help ambitious creators develop their professional skills. The FX30 is a video-first camera but can still take 26MP stills, and it doesn't just blow Sony's ageing A6000 series out of the water, it makes the FX3 look a bit limited too. Bravo!
In a world of expensive cameras it's nice to finally get a sub $2,000 camera that is NOT crippled in features and has a serious and clear purpose. The FX30 to me makes a lot of sense and I want to see if you think the same:

Loading ...