Sigma 35mm f/1.4 FE lens officially announced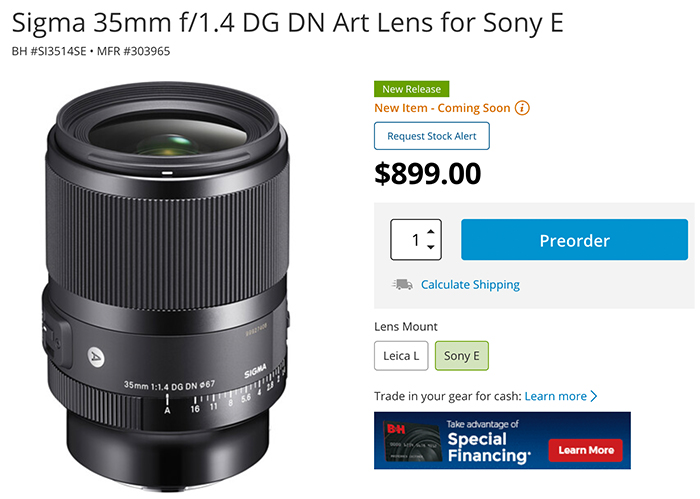 Preorders:
Sigma 35mm f/1.4 FE lens at BHphoto, Adorama, FocusCamera.
Tests:
Full review by Marc Alhadeff. Hands-on by Dpreview. Article by Jack Fusco. Article by Nicolas Datiche. Article by Lin Yen Ting. Article by Alina Schessler.Spanish review at Photolari. Sigma lens product page.
Video reviews:
Press text:
SIGMA Corporation is pleased to announce the SIGMA 35mm F1.4 DG DN | Art.
Superb optical performance and usability power up the most popular focal length.
An "Art F1.4 35mm" reborn for mirrorless and empowered through SIGMA's technology to date.
The existing 35mm F1.4 DG HSM | Art was SIGMA's first GLOBAL VISION lens. Released in 2012, it set the standard for all of SIGMA's subsequent Art-line lenses, and thanks to its exceptional image quality it is still the 35mm prime lens of choice for many professional photographers. Nine years on, the 35mm F1.4 has been redesigned from the ground up specifically for mirrorless cameras.
Despite being significantly smaller and lighter than the existing 35mm F1.4, it displays an outstanding level of sharpness right to the edges of the frame at all apertures, as well as exceptionally smooth and attractive bokeh and remarkably well-controlled optical aberrations.
Designed exclusively for use with mirrorless cameras, the 35mm F1.4 DG DN | Art is light enough to feel perfectly balanced on a compact mirrorless camera, yet is packed with an array of professional features including ultra-fast AF, a de-clickable and lockable aperture ring and a customizable AFL button. This gives the lens operability and portability without compromise, making it as ideal for professional projects as it is for casual outings, and as well-suited to video as it is stills.
SIGMA is delighted to introduce you to the new gold standard in wide-aperture 35mm primes.