Sony 135mm GM reviews and tests by Marc Alhadeff, Phillip Reeve, Northrup, David Oastler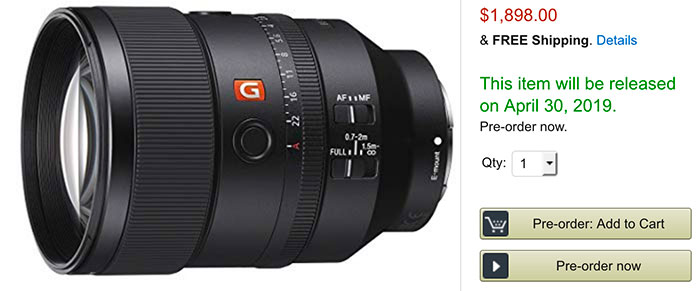 Tomorrow the new 135mm GM will finally start shipping to US buyers too (get it here on Amazon, BHphoto, Adorama and FocusCamera). And here are some of the very early reviews of this lens:
Marc Alhadeff writes:
The Sony 135mm F1.8 GM is a new jewel in the GM serie, it will produce excellent results in Outdoor portraits, sports, weddings, street photography. Compared to its biggest competitor Sigma 135mm F1.8 , the Sony is lighter, smaller , a little bit more sharper , has a better color rendition and its AF is much more faster and accurate, Background blur is a little bit smoother , Bokeh Balls are better, the only areas where the Sigma has the edge is a little bit better resistance to flare, and the price (1400 euros)
A must have is you like the 135mm focal length
Phillip Reeve writes:
Mirror, mirror on the wall, who is the sharpest of them all? It is the Sony FE 1.8/135 GM, at least for all lenses that I have used yet. It is the first lens where nothing happens when I stop down except of decreasing vignetting and increasing diffraction. Even the macro and microcontrast is completely there wide open.
Besides sharpness, I can also praise the good CA correction, low distortion, low vignetting and the close up sharpness.The proven GM build quality makes using this lens a joy, especially the large amount of manual lens controls is very useful.
Sony 135mm f1.8 GM Live Unboxing & initial thoughts
Sony vs Sigma 135mm f/1.8 Portrait Lens Comparison
Sony 135mm f1.8 GM vs Sigma 105mm f1 4 Bokeh shootout
Preorders:
Sony 135mm GM at Amazon, BHphoto, Adorama and FocusCamera. EU at ParkCameras, WexUK and Calumet DE.
Sony RMT-P1BT remote commander at Amazon, BHphoto, Adorama and FocusCamera.
Sony T* Circular Polarizer Filters at BHphoto and Adorama.