Sony 400mm f/2.8 FE versus the Canon 400mm lens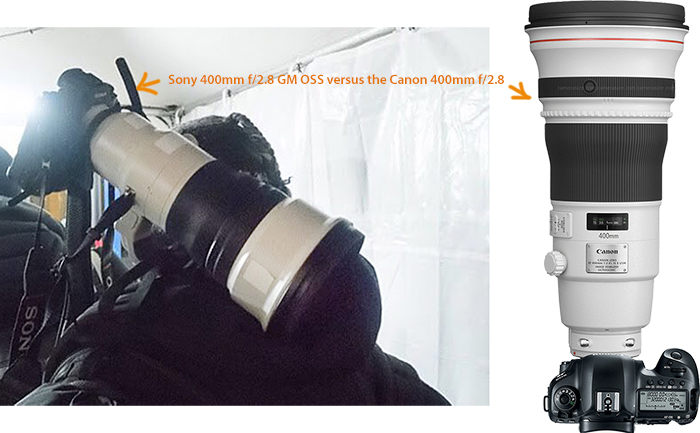 image via AP Instagram
It's really hard to determine the exact size of the new Sony 400mm f/2.8 FE lens based on the leaked image. But we can safely assume it's pretty much close to the size of the current Canon 400mm lens.
Little is known about the lens yet:
– Preorders will be available this September according to BHphoto.
– The lens will be priced at $10,000+
– This is a GM lens with in lens stabilization (obviously)
This is a lens 99% of our readers will not buy. But for them we have some more exciting news ahead:
What's next on the E-mount lens front:
Tomorrow Zeiss will announce the new Loxia 25mm f/2.4
Within the next weeks Samyang will announce a new portrait lens (FE autofocus)
Sony could announce a new 135mm f/1.8 FE lens (unconfirmed if it's coming at Cp+)
Super exciting: Sigma will show their native FE Art lens roadmap at CP+
Sigma will also launch a new 50mm f/1.4 for the APS-C E-mount cameras
Venus Optics will announce a new 9mm f/2.8 ASP-C E-mount lens
Tokina will showcase new FE lenses too (wide and super wide angle primes)
So you see there is plenty of stuff coming soon!
One more thing:
Sony registered a new camera code in late 2017. So there may be a new camera announcement at CP+ too. Is it for the new A7III?