Sony A1 review at Engadget: "it is the most powerful mirrorless camera ever built"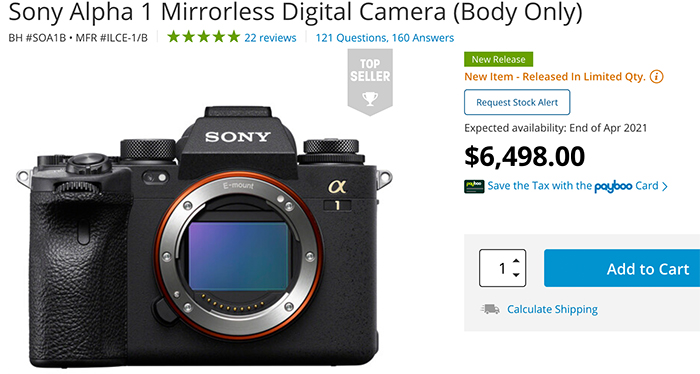 Sony A1 at BHphoto. Adorama. Amazon. Focuscamera. FotoErhardt DE. Calumet DE. Fotokoch DE. Park UK. WexUK. Join the Sony A1 Facebook group here.
Steve Dent from Engadget reviewed the Sony A1 and concluded:
To summarize, the Sony A1 is the most powerful mirrorless camera ever built, and it should be for $6,500. It's also an impressive demonstration of Sony's tech prowess, giving us a taste of what's to come with its future mirrorless lineup.

But does it beat the Canon R5? The superior video and shooting speeds do give it a slight edge, but it would be hard for the average person to justify paying an extra $2,500 for moderately better performance. For another $500, you could also get a "hybrid" video and photo camera by purchasing both a Sony A7S III and an A7R IV.

The primary market for this camera is professional sports, action and wildlife photography. For that, the A1 has incredible speed and reliable autofocus, and the high-resolution photos are a huge bonus for cropping in.

Another valid segment is dedicated 8K video shooting. Because it doesn't have the overheating problems of Canon's R5, the A1 is actually feasible for that. If you look at it that way, the A1 is actually one of the cheapest 8K video cameras available.
More A1 news:
According to CAPA the Sony A1 was also the best selling mirrorless camera in Japan (March sales).
And this is a new video by Patrick Murphy-Racey where he conbines the A1 with SONY's Xperia 1: