Sony announces new CMOS Image Sensors with Global Shutter (for industrial applications).
Sooner or later we are going to have large CMOS global shutter sensor on Sony Alpha cameras. This week Sony just announced smaller 2/3 and 1/1.8 inch CMOS global shutter sensors. The new Sony video on top shows the advantage of the global shutter over rolling shutter when recording fast moving objects.
Here is part of the press text (via Sony.net):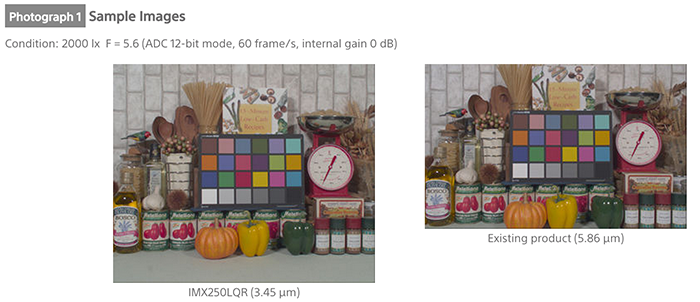 Global Shutter Function
Industrial applications require imaging of fast-moving subjects. However, there is the issue that existing CMOS image sensors are unable to accurately identify fast-moving subjects due to focal plane distortion as a result of rolling shutter operation. The IMX250LLR/LQR and IMX252LLR/LQR address this issue by providing analog memory inside each pixel and realizing a global shutter function, which enables high-picture-quality imaging without focal plane distortion.
The Industry's Smallest Pixel Size Class for Industrial Applications
Analog memory, transistors and other elements must be added to the inside of each pixel to realize a global shutter function, which made it a challenge to reduce the pixel size. The newly developed products use Sony's fine pixel fabrication technology to realize a small pixel with a size of 3.45 µm compared to the 5 µm range that is the existing standard for global shutter pixels.
This enables high-resolution imaging using a smaller lens than that of the existing products.
High Sensitivity
In order to reduce the size of pixels equipped with a global shutter function, it is necessary to secure a sufficient pixel light-detecting area while also securing an analog memory area within the pixel, so there were concerns over a drop in sensitivity.
However, high-sensitivity pixel design technology and condensing process technology were used to increase the sensitivity of the newly developed 3.45 µm pixel, and realized high sensitivity exceeding that of the existing 5.86 µm product (1.1 times compared to the existing 5.86 µm product).
In addition, EXview HAD CCD*1 technology also increases sensitivity in the near-infrared range, enabling use with high picture quality even under near infrared light.
*1: EXview HAD CCD is a trademark of Sony Corporation.
High Frame Rate
Customers have strongly demanded higher frame rates for industrial applications, so an ADC 8-bit mode was added to the IMX250LLR/LQR and IMX252LLR/LQR in addition to the existing ADC 10-bit and 12-bit modes. Also, the column-parallel A/D conversion technology of Sony CMOS image sensors is used to realize high-speed imaging of up to 163.4 [frame/s] (ADC 8-bit) for the IMX250LLR/LQR and up to 216.3 [frame/s] (ADC 8-bit) for the IMX252LLR/LQR (Table-3). This enabled further increasing the processing speed for industrial applications.
A Variety of Functions
The IMX250LLR/LQR and IMX252LLR/LQR are equipped with a variety of functions needed for industrial applications, such as ROI mode and trigger mode. ROI mode crops arbitrary areas, and up to 8 × 8 = 64 locations can be set. Various exposure methods are provided for trigger mode, which controls the exposure time using an external pulse. In addition, the IMX250LQR and IMX252LQR (color products) are equipped with functions such as subsampling, horizontal and/or vertical inverted readout, and multiple frame set output, and the IMX250LLR and IMX252LLR (monochrome products) also have a pixel addition function in addition to color product functions.