Sony shows new videos of the Starvis (super low light) and Pregius (global shutter) sensors .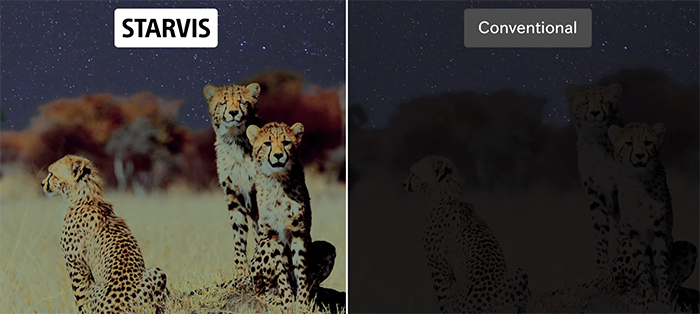 Starvis Sony sensors can see in nearly dark conditions!
Sony posted two new videos showing two new sensor tech. For now both sensors are made for a main use in the security camera business. But the sensors features might find some of it on future digital cameras too. Here is the official sensor description:
Pregius sensor: "The Pregius is global shutter pixel technology for active pixel-type CMOS image sensors that use Sony's low-noise CCD structure, and realizes high picture quality." (Source: Sony).
Starvis sensor: "The STARVIS is back-illuminated pixel technology used in CMOS image sensors for surveillance camera applications. It features a sensitivity of 2000 mV or more per 1 µm2 (color product, when imaging with a 706 cd/m2 light source, F5.6 in 1 s accumulation equivalent), and realizes high picture quality in the visible-light and near infrared light regions." (Source: Sony).
And here are two videos:

"STARVIS" : Sony CMOS image sensor technology for security

"Pregius" : Sony CMOS image sensor, Global Shutter Technology