Sony Photokina press conference on Monday September 19 at 15:00 Berlin time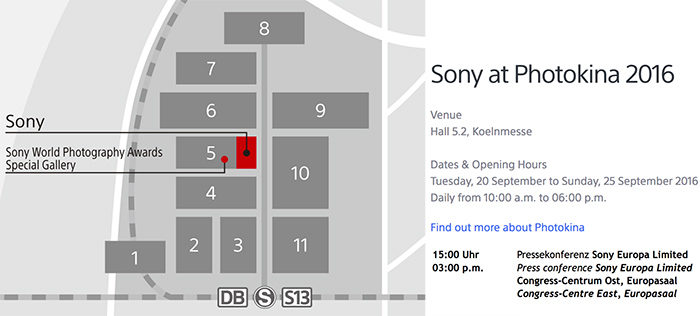 On Monday September 19 at 15:00 Berlin time Sony will have a press conference. So far it seems like the big focus will be on the Sony World Photography Awards Gallery presentation. There is a fair chance that Sony will not announce any new camera.
This isn't unexpected as Sony usually announces their important new products after those kind of major events to get the full spotlight. Two years ago they announced the new A7II after Photokina (in November).
Also note that the Kumamoto damage created a sever shortage on sensor. While other manufacturers like Olympus, Panasonic and Fuji will announce new cameras at Photokina all of them will ship in early 2017 only.
Now let's hope I am wrong and Sony has a surprise we don't know about yet…
A9 and A99II rumor hints: Our trusted sources (the same who for example correctly leaked to us correct info like the Sony E-mount lens image) confirmed both biggest rumors: The new High End E-mount camera is ready to be released on market within few months…and the new High End A99 successor development has finished. But the official release date is still "hush hush". And in the case of the A-mount High End camera I do hope marketing also decides to put that camera into production. Sony pomised they would keep developing new A-mount cameras…so don't blame yourself Sony ok?
–
Sony at Photokina: http://www.sony.co.uk/electronics/photokina-trade-show