Sony's slow start in 2020 compared with Nikon, Canon and Fuji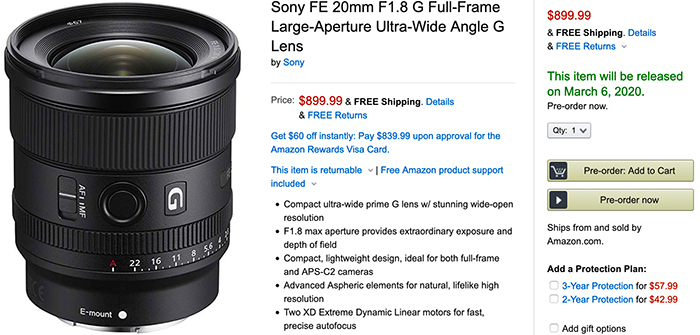 Sony 20mm f/1.8 FE G in USA at BHphoto, Amazon, Adorama. FocusCamera.
Sony 20mm f/1.8 FE G in Europe at Amazon DE. Calumet DE. Amazon UK. Parkcameras UK. Amazon FR. Amazon IT. Amazon ES.
–

I don't recall Sony having ever had such a "slow" product announcement start in years. At that time last years we already had two cameras announced (A6400 and RX0II) and the 135mm GM. I also made a comparison with other companies to show how Sony had an unusual slow pace:
Nikon (6 products announced):
Nikon Coolpix P950
Nikon D780
Nikon AF-S Nikkor 120-300mm F2.8E FL ED SR VR
Nikon Nikkor Z 70-200 F2.8 VR S
Nikon Nikkor Z 24-200mm F4-6.3 VR
Nikon Nikkor Z 20mm F1.8 S

Fuji (5 products announced):
Fujifilm X-T200
Fujifilm X100V
Fujifilm X-T4
Fujifilm XC 35mm F2
Fujifilm GF 45-100mm F4 R LM OIS WR

Canon (4 products announced):
Canon EOS-1D X Mark III
Canon EOS R5 (granted just development announcement)
Canon EOS Rebel T8i
Canon RF 24-105mm F4.0-7.1 IS STM

Olympus (2 products announced):
Olympus OM-D E-M1 Mark III
Olympus M.Zuiko Digital ED 12-45mm F4 Pro

Ricoh-Pentax: (2 products announced):
Ricoh WG-70
HD Pentax-D FA 70-210mm F4 ED SDM WR

Sony (1 product announced):
Sony 20mm F1.8G

Leica (1 product announced):
Leica M10 Monochrom

Panasonic (0 products announced):
no product announced (a part of a new L-mount lens roadmap).
So what's up?
My guess is that Sony's plan is to launch most of it's new products from Photokina towards. We will likely get the A7IV and As7II successor during the second half of 2020. The new 12-24mm f/2.8 GM in summer and also a fixed lens camera and new telephoto lenses. Still, would love to see Sony surprise us with other new products too. I may publish my wishlist soon on SAR :)