(SR3) Next generation SLT cameras coming with mirror flip up mode? Check the patent!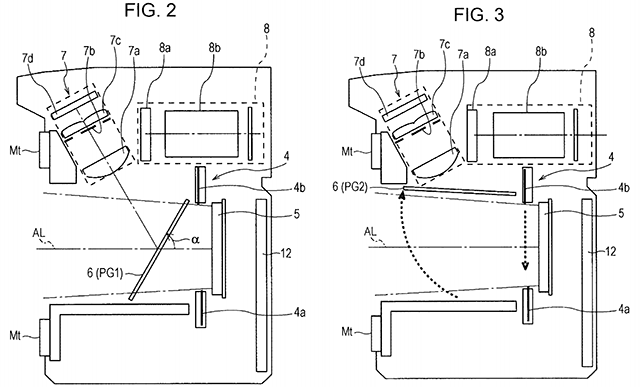 The new Sony SLT design patent.
A week ago a new source claimed to know that the next generation of SLT cameras will have a Flip Up mirror. And see what happened today, I just discovered a brand new published Sony patent describing exactly how this will work! More here at freepatentsonline. The patent has been sent in back in 2009 and it is certainly not a prove that the rumor I got is correct. But at least it shows you that Sony is actually thinking on it.
As you know the so called "translucent mirror" reflects about 1/3 of stop of light for the use of the phase detection mirror. And many SAR readers wanted Sony to implement a mirror lock up mode to be able to get out the best possible image quality from their camera. The next SLT camera is scheduled for a release in February-March. I am working on a bunch of SLT, NEX and lens rumors and I hope to share some more good news like that soon! As I told you, even Canon and Nikon will envy us ;)
I kindly invite you to join the very active and growing Facebook community! And s ubscribe the RSS feed (Click here) and Twitter (Click here) stream. You really will not miss all the news and rumors that will come from now on!
—
Reminder (SR = Sonyrumor):
SR1=probably fake rumor
SR2=rumor from unknown sources
SR3=50% chance it is correct
SR4=rumor from known sources
SR5=almost certainly correct!