(SR4) First specs of the curved sensor 2/3 inch sensor camera (or smartphone) with f/1.2 lens!
A couple of weeks I told you how Sony developed a 2/3 inch and a Full Frame curved sensor. Both are ready for production. We now got our hands on the specs of the 2/3 inch sensor camera (or smartphone) that Sony will launch soon at Photokina. It will be the worlds first curved sensor camera/smartphone!
The 22 Megapixel curved sensor has a dynamic range of 10.8 stop at ISO 640, SNR of 41.1DB at ISO 400 and the astonishing 7.83mm lens f/1.2 G lens is only 6mm thick! This could be the smallest and highest quality compact camera ever made. The 2/3 inch curved sensor has the same signal to ratio of the Canon 5dMarkIII !!!
The chances stay very high that Sony will also launch a Full Frame curved sensor camera with a damn compact Zeiss 35mm f/1.8 lens. Will this be the first Full Frame camera that fits in your pocket???
Here are the lens specs of the 2/3 inch camera: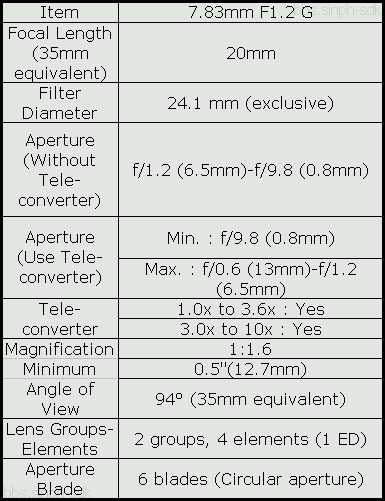 P.s.: I am not sure the equivalent calc of the rable is right…
You really cannot afford to miss any of the upcoming Photokina rumors! So be sure to not miss any of them by following use here:
RSS feed: https://www.sonyalpharumors.com/feed/
Facebook: https://www.facebook.com/sonyalpharumors
Twitter: https://twitter.com/SonyAlphaRumors
GooglePlus: https://plus.google.com/104216500156717934391/posts
—
Message to sources: You can send me more info anonymously by using the contact form you see on the very right of your browser. You can also contact me directly at sonyalpharumors@gmail.com.
—
Reminder (SR = Sonyrumor):
SR1=probably fake rumor
SR2=rumor from unknown sources
SR3=50% chance it is correct
SR4=rumor from known sources
SR5=almost certainly correct!
via MirrorlessRumors via CNbeta.