(SR4) Sony A77 coming on…..July 7! For $1099 including the kit lens!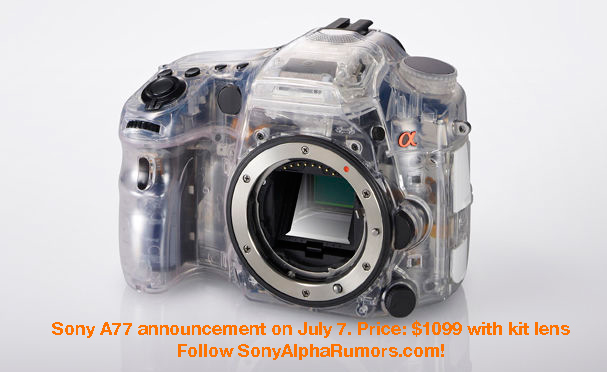 Finally the wait is over! We know when Sony will show the new A77 to the world! A trusted source confirmed the Sony A77 will be announced on July 7 (as some reader noticed that's not a casual date 7/7 for the A77). It will be priced at $1099 including the kit lens! As I already told you the camera will be in Stock in late September/early October. Feel free to share that news on your blog or forum. But would be nice to link back to SonyAlphaRumors as we have been the first to post that! (Thanks to our special anonymous sources!!!).
The A77 will be Sony's top APS-C model. And I am very surprised about the very good price. I don't know if that is the price with the current [shoplink 6957]18-55mm zoom lens[/shoplink] or the rumored new high quality kit lens (that would make that price even more amazing) . Let's compare it with the best APS-C models from the main competitors:
The Nikon 7000 costs $1,199.95 but you pay that for the body only! Check [shopcountry 6952].
The Canon 7D costs $1,860.00 (again body only!). Check [shopcountry 6954].
The very good Pentax K-5 costs $1,479.00 with kit lens. Check [shopcountry 6953].
Let's assume the kit lens is the current 18-55mm zoom, and let's assume the image quality is indeed top of the notch:

Loading ...
I am convinced the A77 will be the best APS-C camera on the market. It toke very long for Sony to develop the [shoplink 3228]A700[/shoplink] successor. But the reason behind that is that Sony wanted to make a perfect camera using the new SLT technology. It will fix most of the problems of the current first generation SLT cameras ([shoplink 3617]Sony A33/55[/shoplink]). Along that camera Sony will announce new accessories and new lenses. I have no 100% confirmation yet but also the NEX-7 should be announced on the same day.
Its' going to be a big day on July 7! I hope you will be all here on SonyAlphaRumors to follow that event live! Don't miss rumors, join us on Facebook and Twitter and follow our RSS-feed!
I toke a day off from my work to read all your comments. Ask me whatever you want and I will answer you! Thanks!
Those are the specs of the A77:
The A77 announcement on July 7.
Shipment start early October
Coming with new kit lens (A Sony 16-50mm zoom. Compared to the [shoplink 5586]Zeiss 16-80mm f/3.5-4.5[/shoplink] it will have a constant aperture and probably have a bit higher price. Zeiss 16-80mm price check at [shopcountry 5586].)
24 Megapixels (The combination of the new sensor+new Zeiss lens delivers 62% more resolution than the [shoplink 3617]A55 16 Megapixel sensor[/shoplink].)
1080p/30fps, 720p/60fps and 720p/30fps high-definition video
AF fine-tuning capabilities. A source told us that it has an improved focusing system (quite fast and accurate).
3 Million dot OLED viewfinder (more than double of the resolution fo the current [shoplink 3617]Sony A55/33[/shoplink] viewfinder.)
magnesium alloy
It will take CF
+SD
+MS
cards
No flip-up mode to allow shooting without this extra sheet of glass in place
1.000 pictures with one battery
Reminder (SR = Sonyrumor):
SR1=probably fake rumor
SR2=rumor from unknown sources
SR3=50% chance it is correct
SR4=rumor from known sources
SR5=almost certainly correct!