(SR4) UPDATED: The new "mini A9" will displayed at "Photokina or PhotoPlus" and probably NOT be named A6700!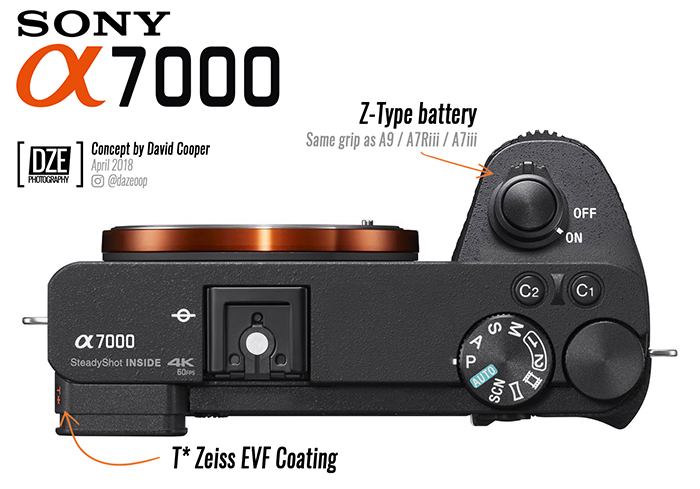 Just a rendering of a possible A7000 (article here).

A trusted source told me that Sony will announce this at Photokina (UPDATE: He now corrected it to "Photokina or PhotoPlus"):
All I know is rumor is mini A9 is coming
This will be a new APS-C E-mount camera and what the source also told me is that:
this camera might NOT be named A6700
This info matters because this camera might be different from the previous A6xxx models and not an A6500 successor!
Expect this camera to record 20fps and possibly even 4k 60p just like the rumored Fuji X-T3. The announcement of this camera can now happen any time between now and mid September.
I still cannot confirm with 100% reliability that Sony will announce new camera(s) the upcoming week. Stay tuned!
So to sum up the camera rumors:
– High End APS-C E-mount camera to be announced and displayed at Photokina
– New Zeiss fixed lens Full Frame camera with autofocus prime lens. This could be a rebranded and redesigned RX1 alike camera.
– The A7sIII is 90% likely to be announced within 1-2 months. But I can see this announcement happening in October at Photo Plus too.
The lens rumors:
– Sony 135mm f/1.8 GM probably to be announced at Photokina
– Sony 24m f/1.4 GM highly likely to be announced at Photokina
– Maybe new Voigtlander FE lenses coming
– Probably new 50mm f/1.4 APS-C E-mount from Sigma
– Highly Likely a new 70-200mm f/2.8 FF E-mount lens from Sigma.
– New Zeiss Batis 40mm f/2.0