(SR5) First Full Frame Zeiss Sonnar 35mm f/2.8 E-mount lens listed at Sony Germany.
Click on the image to enlarge and read the details!
–
One month ago I told you that one of the four Full Frame E-mount lenses that Sony will announce soon is the Zeiss 35mm f/2.8 lens. And finally we can be 100% sure it's coming because the SEL35F28Z has been listed at Sony Germany (Click here). And there is a full PDF file (download here/ and in english here) that describes the lens (Thanks Eddy for finding this). The text says:
The Sonnar T FE 35mm F2.8 ZA is compatible with the range of a 35mm format image sensor. The other lenses are compatible with the range of an APS-C  sized image sensor. A camera equipped with a 35mm format image sensor can be set to shoot at APS-C size. For details on how to set your camera, refer to its instruction manual.
The image on top shows the specs and the size of the lens. It's quite small compared with the [shoplink 8450 ebay]Zeiss 24mm f/1.8[/shoplink] lens!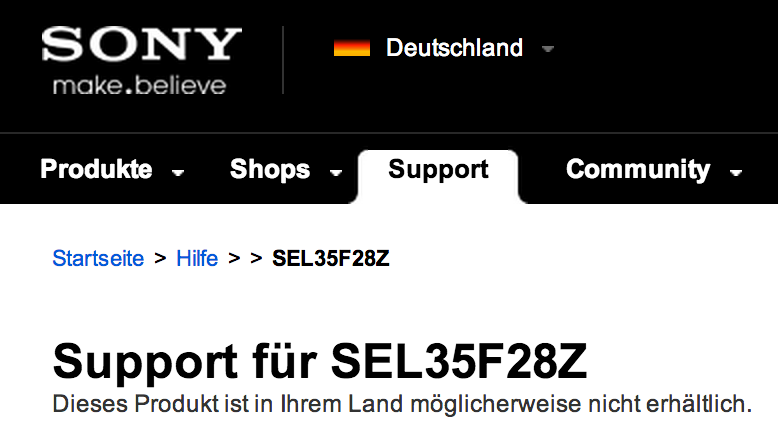 As I told you yesterday the E-mount FF camera (or better said cameras!) are one of the best keep Sony secrets. I know they are coming but I am still not 100% sure if they will be announced within 2013 or in January 2014. Stay tuned on SAR the next couple of days and weeks. Images are coming for sure and also many more camera and lens info. Working day and (sometimes) night lately to work on reliable rumors! And very important. Not Sony camera/lens owners should follow SAR. Canon and Nikon lens owners should follow us too! Spread the word guys!
Reminder: Zeiss once made the Zeiss 35mm f/2.8 C Biogon T* for the M-mount system (you can find the lens here at Amazon US or [shoplink 19913 ebay]eBay[/shoplink]).
—
Message to sources: You can send me more info anonymously by using the contact form you see on the very right of your browser. You can also contact me directly at sonyalpharumors@gmail.com.
For readers: Subscribe the RSS feed (Click here) and Twitter (Click here) stream and the Facebook fan page (Click here) in order to not miss any news!
—
Reminder (SR = Sonyrumor):
SR1=probably fake rumor
SR2=rumor from unknown sources
SR3=50% chance it is correct
SR4=rumor from known sources
SR5=almost certainly correct!