(SR5) First picture of the Sony A57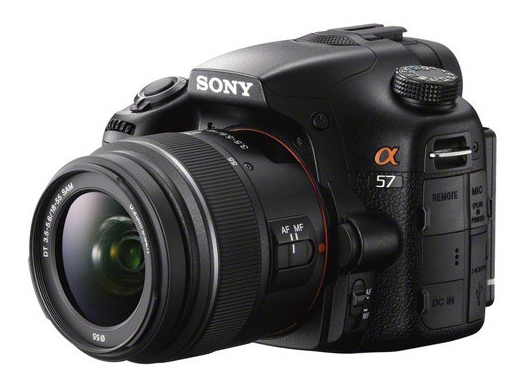 Gdgt (Click here) already leaked the first picture of the upcoming new Sony A57! As you see it's pretty much the same camera like the [shoplink 8459]Sony A65[/shoplink]. And as I told you before Redcoon Germany is also listing the new product. The camera will be announced on Tuesday 4am London time.
In short the specs are:
16 megapixel Exmor HD sensor
10 fps (12fps in tele zoom mode)
100 up to 16.000 ISO
1,44 million dots EVF
15 point AF with 3 cross sensors
AVCHD 2.0 60p/60i/24p recording
All that for a body only price of $699. Sony's goal with that camera is to compete against the Canon 600D/T3i ($620 at Amazon) and Nikon D5100 ($650 at Amazon). If you are waiting for the new Sony A99 FF model than you will have to wait until September!