(SR5) Full VG900 Full Frame NEX camcorder specs! With Full Frame A-mount adapter!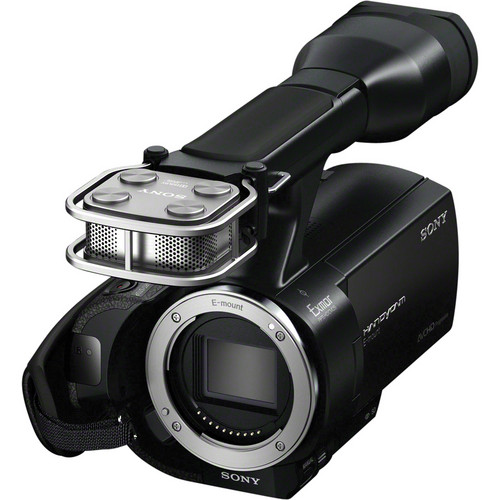 Image on top: The current VG-20 (not the new VG900!).
As I told you a weeks ago for the first time we are going to see a new Full Frame E-mount camera! It is actually a camcorder, the NEX-VG900. According to top sources it will use the same Sony A99 24 megapixel sensor and current NEX lenses like the superb [shoplink 8450]Zeiss 24mm f/1.8[/shoplink] or [shoplink 8448]Sony 50mm f/1.8[/shoplink] will work in crop more (and you can take 16 Megapixel pictures with it). The new Zeiss E-mount lenses will cover the full Full Frame area. The CP.2 25/T2.1 and CZ.2 70/200/T2.9 E -> Click here to get again a new shock by reading the price :)
The camera itself records in 24p/50p (or 60p in USA) at 24Mbit/s (AVCHD). It has a Quad Capsule Spatial Array Stereo Mic, a 3 inch 9k and 270 degree swivel touchscreen. An XGA electronic viewfinder. A manual control jog dial. A dual SD card slot, remote AVR/IR, mic jack and hdmi. The body looks like the current VG-20 camera (here on BHphoto). What changes is the sensor size :)
The price of the camera is around 3300 Dollars/Euro and includes(!) the new A-mount LA-EA3 Full Frame adapter!
While this camera may not be interesting for 99% of our readers the big news here is that:
1) It proves that a Full Frame NEX camera is possible :)
2) A Full Frame [shoplink 8454]Sony NEX-7[/shoplink] alike camera could really be announced in 2013 (as I have been told by sources)
A Full Frame NEX-9 could allow us to use [shoplink 13363 ebay]Leica M-mount lenses (here a list of them on eBay)[/shoplink] and [shoplink 13362 ebay]Canon FD lenses (here a list of them on eBay)[/shoplink] on it! Sony has yet no plan to make FF NEX lenses but I hope they will "feel" the pressure from you folks! And they may change their mind…
Reminder: The announcement of the A99 along the NEX-6, A and E-mount lenses is scheduled for September 12th! Stay tuned on SAR on that day! Subscribe the RSS feed and join the Facebook page to not miss any new rumor!
Reminder (SR = Sonyrumor):
SR1=probably fake rumor
SR2=rumor from unknown sources
SR3=50% chance it is correct
SR4=rumor from known sources
SR5=almost certainly correct!