(SR5) Hot! First images of the new DSC-QX10 and DSC-QX100 lens-cameras!
First of all: You absolutely have to follow SonyAlphaRumors the next days because there will be plenty of exciting Sony news. Be sure to subscribe our RSS feed (Click here) and Twitter (Click here) stream and the Facebook fan page (Click here) in order to not miss any rumors! There will be new NEX cameras and lenses (and a Full Frame NEX!), new Action cameras, the Honami i1 and the craziest thing of all is this new sort of "Lens-camera".
Lens-camera: What you see on these images are the DSC-QX10 and DSC-QX100 lenses. Actually these are not normal lenses! They have built-in sensor, Bionz processor, Wifi/NFC wireless connection and SD card slot. These lenses have no LCD screen and no usual camera controls. You will be able to control them through your smart phone or tablet (via WiFi or NFC). The lenses can be magnetically attached on your smartphone and it works on both, Android and iOS devices. That is nothing like we have seen before. For the first time you can shoot top quality images with your smartphone. Forget these iPhone or Android lens kits!
Sony will soon launch two "lens-cameras":
1) One is the "Lens-camera" with RX100MII sensor and  Zeiss lens ($600 here on Amazon). On the pictures it is the bigger lens. As you know the RX100 is the most praised high end compact camera and features a large 1 inch sensor which is the same used by the Nikon 1 system. Now you can have that kind of Image Quality on your iPhone or Android Smartphone!
2) The second model will feature a 10xzoom lens with 1/2,3 inch 18 megapixel CMOS sensor (the image with the f/3,3-5.9 lens). It's basically the same sensor and lens of the Sony WX150 ($400 on Amazon).
Price and exact release date are yet unknown (September 4?). But here are two more pics: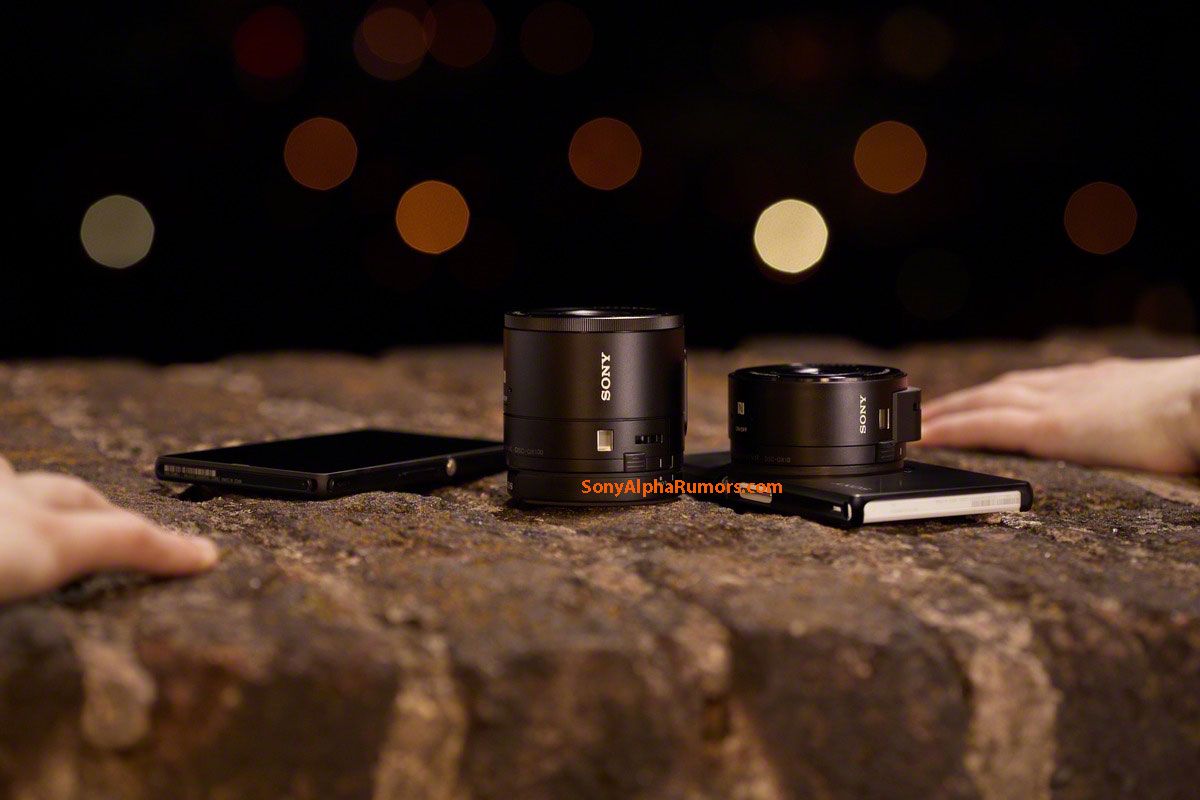 This is the first step in a completely new way of doing photography! If that concept will be successful is hard to say now. But chapeau Sony for trying to do something completely new!
UDPATE: Someone pointed out that the last picture shows the new Honami i1 Sony smartpone! Two leaks in one :)
And now again, follow SonyAlphaRumors the next days and weeks. There is some more amazing stuff to come! There is a NEX camera and lens announcement scheduled for late August, a Honami i1 and QX Lens-camera announcement for September 4 and if the rumors are correct there will be an astonishing NEX Full Frame(!) announcement in late September too!
——–
Support: I upgraded my server plan to be able to avoid any blackout during the next intense weeks. I would be glad if you can help me to cover these extra costs with a small donation. Thanks!
———
Message to sources: You can send me more info anonymously by using the contact form you see on the very right of your browser. You can also contact me directly at sonyalpharumors@gmail.com.
For readers: Subscribe the RSS feed (Click here) and Twitter (Click here) stream and the Facebook fan page (Click here) in order to not miss any news!
——–
Reminder (SR = Sonyrumor):
SR1=probably fake rumor
SR2=rumor from unknown sources
SR3=50% chance it is correct
SR4=rumor from known sources
SR5=almost certainly correct!