(SR5) New image of the Zeiss Loxia 35mm lens. Announcement on September 1-2.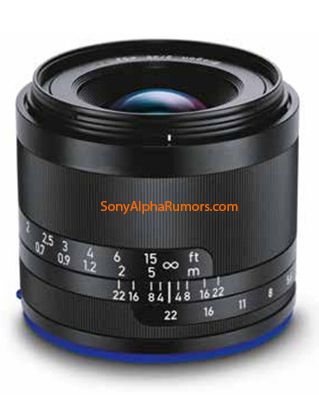 The image on top shows the new Zeiss Loxia 35mm f/2.0 Biogon Full Frame E-mount lens. Just like the yesterday leaked 50mm Loxia this is a manual focusing lens with electronic aperture control.
At the Zeiss really took inspiration from their ZM lens line as both new Loxia match the specs and kind of "general" design of these two:
[shoplink 9808 ebay]Biogon T* 2/35 ZM (here on eBay)[/shoplink].
[shoplink 9809 ebay]Planar T* 2/50 ZM (here on eBay)[/shoplink].
I have been told that Zeiss will announce those lenses within the next 3-4 days, likely on Monday or Tuesday!  And these will be just the first two lenses of five to come within the next 6-12 months!
–
Plenty of rumors and stuff coming the next days! Do not miss any rumor and join us here:
RSS feed: https://www.sonyalpharumors.com/feed/
Facebook: https://www.facebook.com/sonyalpharumors
Twitter: https://twitter.com/SonyAlphaRumors
GooglePlus: https://plus.google.com/104216500156717934391/posts
Source can send anonymous messages here:
[contact-form-7 404 "Not Found"]
——–
Reminder (SR = Sonyrumor):
SR1=probably fake rumor
SR2=rumor from unknown sources
SR3=50% chance it is correct
SR4=rumor from known sources
SR5=almost certainly correct!