(SR5) So far confirmed: Sony will announce new E-mount lenses around September 18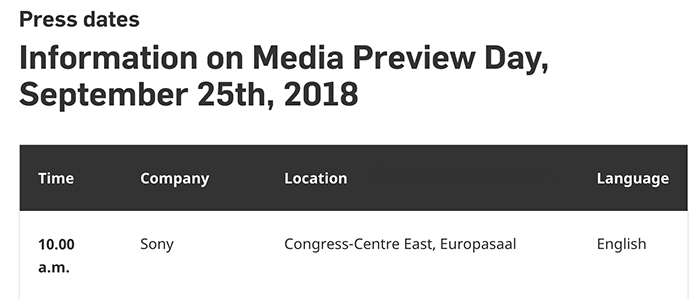 Trusted sources confirmed the September 18 event (+/- 1 day depending on time zone).  They also confirmed Sony will announce new E-mount lenses. They have NO info yet about new camera announcements.
So for now know there is a 99% chance to get new lenses. But hold your horses for now if you expect a new camera.
Keep in mind there is also a second announcement at Photokina (September 25) and one more announcement in mid October!
While yet still to be 100% confirmed I expect the new 24mm f/1.4 GM and 135mm f/1.8 GM to be unveiled on September 18. The new APS-C lens should be announced along a new High End APS-C camera.
So let's make a "rumor-summary" to keep an order on what's going to happen:
(SR5) What's confirmed:
1) Sony pro camcorder launch on September 14
2) Sony E-mount lens launch around September 18
3) WX700 compact camera launch on one of the upcoming events
4) Sony press conference on September 25
5) Zeiss FF fixed lens camera on September 27
6) One more Sony event in October
(SR4) What's highly likely:
1) 24mm f/1.4 GM launch on September 18
(SR3) What's totally in the wild yet:
1) Sony APS-C High End E-mount camera is ready to launch but we don't know when!
2) Sony A7sIII is ready to launch but we don't know when Sony will announce it. And it might be a longer wait than for the APS-C E-mount camera!
3) Sony 135mm f/1.8 GM could be announced on September 18
4) New APS-C lens to be announced with the new High End APS-C camera
5) There is a rumor about a completely new FF E-mount camera launch (more about that soon on SAR)
26 Zeiss Batis 40mm f/2.0 to be announced on September 10
–
Please hold me accountable for SR5-SR4 rumors. SR3 ranked rumors and lower have to be confirmed first. So please keep that in mind in your discussions and expectations on the upcoming announcement days!
—
For potential SOURCES:
If you know "something" and want to share it anonymously please use the anonymous contact form on the top right of the sidebar. Please use a nickname so that I can recognize you in future messages. You can also contact me directly at sonyalpharumors@gmail.com. Use remailer.paranoici.org to send me an anonymous message if you prefer to do so.
For READERS:
To be sure to not miss any of the upcoming news do this:
Subscribe our RSS feed (Click here).
Join us on Facebook (Click here).
Follow us on Twitter (Click here).