(SR5) Sonyservice Canada leaks the new NEX-5E, NEX-VG20 and 55-210mm E-mount lens!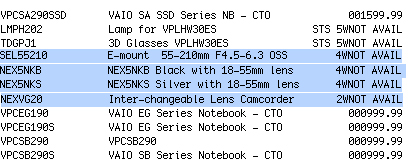 One of our reader (Thanks Clement!) just rechecked the Sonyservice Canada website and found three new codes:
NEX5N (This is probably the new code fot the upcoming new NEX-5E)
NEXVG20 (This should be the [shoplink 3058]Sony NEX-VG10[/shoplink] successor)
SEL55210 (This is the 55-210mm lens for NEX).
Now let's hope Sony Canada will soon add the new A77 and NEX-7 codes too ;)