(SR5) The Sony DDay on August 23/24!!! The biggest Sony Photo products announcement in history?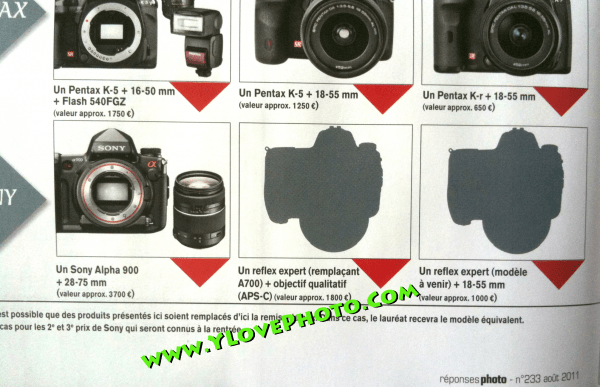 Ylovephoto.com found that french A77 and A65 leak at the bottom of page 36 in Réponses Photo (a french magazine). And the September edition will contain the real pictures and specs ;)
According to our trusted sources Sony will announce the A77, A65, NEX-7, (probably a NEX-5N and VG20 too) and the new 16-50mm f/2.8 SSM and 24mm f/1.7 Zeiss E-mount lens (+ maybe 50mm and 55-210mm) on August 23/24! Maybe the reason why I go two dates is because all depends from the timezone you live (for example it could be August 24 in Japan and August 23 in USA). I should get the exact announcement time and the exact product list very soon. My sources already told to me that this is probably the biggest Sony photo announcement ever made! So stay tuned! I am sure we will have some exciting time here on SAR!
P.S: As you might remember Sony originally had the plan to announce all those products in early July but due the Tsunami tragedy the product roadmap shifted forward for almost 2 months. The new cameras should be in Stock by early October (at least in Asia), probably later in Europe and US!
Support this site: I am having a lot of fun to work on SAR. I don't use dozens of banners and I don't get paid by any company to do what I do. All the work you see here is made by me during my free time. If you want to help me to cover the monthly server costs there is an easy way: Click on affiliate links you see on that website like Amazon, B&H, Adorama, eBay to buy whatever product you want (it doesn't have to be a camera) and I will earn a small commission from it. You don't pay any penny more on the items you buy and at the same time you support SonyAlphaRumors without me having to put 100 banners on my website. Cool or not? Thanks :)
Reminder (SR = Sonyrumor):
SR1=probably fake rumor
SR2=rumor from unknown sources
SR3=50% chance it is correct
SR4=rumor from known sources (60-80% the rumor is correct)
SR5=almost certainly correct!