Sony just announced the new Ultra-Lightweight, E-mount Camera for Industrial Applications, the ILX-LR1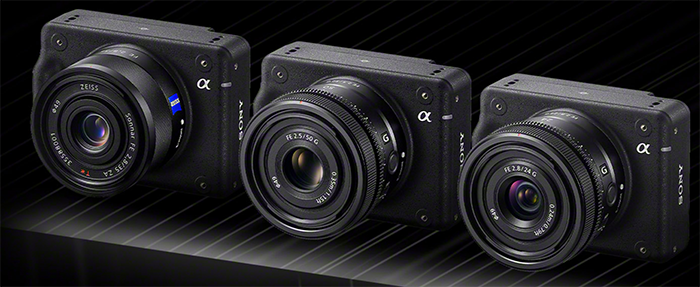 The long time rumored compact Cinema camera has been announced today! The camera is listed with no preorder option at BHphoto (Click here).
Sony Electronics Launches Ultra-Lightweight, E-mount Interchangeable Lens Camera for Industrial Applications, the ILX-LR1
The New 35 mm Full-Frame Image Sensor Camera Offers High-Resolution Imagery with a Compact Body, Remote Operation, and is Compatible with the Sony Camera Remote Software Development Kit (SDK)
SAN DIEGO, Sept. 5, 2023 – Today, Sony Electronics announces the launch of the new ILX-LR1, an interchangeable lens camera designed for industrial use with approximately 61 megapixels 35 mm full-frame image sensor. With high resolution and in a lightweight, compact form, it is ideal for inspection, investigation, surveying, and mapping by drone.
 "As the industrial market for drones expands, we recognized the need for a compact, lightweight, and full-frame option that prioritizes image quality and offers remote capabilities. This is a gamechanger for many in the industry," says Yang Cheng, Vice President, Imaging Solutions, Sony Electronics. "With the launch of the ILX-LR1, we've taken Sony's trusted legacy and expertise in imaging and paired it with the benefits of our E-mount interchangeable lens system and Camera Remote SDK to create a versatile new ecosystem optimized for photography, which supports a diverse range of industrial applications."
High–resolution sensor for detailed images and efficient coverage
The ILX-LR1 captures high resolution, low noise, and wide dynamic range images that reveal fine details like small scratches and cracks during inspection and investigation. It also has a selection of a continuous shooting capability such as 3 frames per second, which is suitable for mapping shooting, allowing for the rapid completion of high-altitude shots in a short period of time. To make the ILX-LR1 much more versatile, it is compatible with a wide range of E-mount lenses that allow for the selection of the most appropriate lens based on the project so a single picture taken from high altitude can replace several pictures from a lower–resolution camera.
Lightweight and compact design, ideal for drone photography
The ILX-LR1 is designed to be a small and lightweight interchangeable lens camera with a 35mm full-frame image sensor. It is approximately 3.94 inches width x 2.91 inches height x 1.67 inches depth, weighing approximately 0.53 lbs, without carrying monitor, viewfinder, or battery, but incorporating the necessary features for industrial applications.
Designed for easy integration with industrial applications 
With the ILX-LR1's size and functionality, it can be used for a variety of job sites and purposes such as utilities, green energy, telecommunications, transportation, construction, and land management projects. The compact, box-shaped camera has screw holes (M3)i for secure mounting, in any suitable location, on any of its six sides including for attaching to a drone, industrial machines, robots and/or submersibles. In addition, it has mounting screw hole (1/4-20 UNC) on the bottom surface. The USB Type-C and HDMI Micro (Type D) are together on the rear of the camera for easy installation.
Sony Camera Remote SDK gives remote users access and control camera's menus and other functions from their own software applications. By integrating an API into the system, it becomes possible to remotely control the camera from the user's system, allowing for camera settings changes, shutter release, live–view monitoring, and more. Also, a customer's applications can link unique image IDs with drone position data in post-processing. The images can be taken with a trigger signal to minimize latency of each image and drone position data. With the new Version 1.11 ii, when utilizing manual focus, it is possible to retrieve the current focus position and perform focus adjustments to desired positioniii, enabling highly reproducible and stable shooting. ​ Also, lock switch will prevent unintended operation errors caused by the buttons on rear side.
The ILX-LR1 Power & Control Terminal allows for low-latency data communication for remote applications that require an instant response, such as capturing an image at a particular moment. The ILX-LR1 supports DC 10-18V power connection and can be powered from the drone's battery for extended operation time without having to change batteries.
The ILX-LR1 will be debuted at the Commercial UAV Expo Show at the Sony booth #901 in Las Vegas on Sept. 5, 2023.
Pricing and Availability
​The new ILX-LR1 will be available in September 2023 through Sony and a variety of Sony's authorized dealers:
​Camera only: MSRP $2,950 USD, $4,016 CAN.
For additional product information on ILX-LR1, please visit: https://pro.sony/products/installable-cameras/ilx-lr1.
Exclusive stories and exciting new content shot with the new ILX-LR1 and Sony's other imaging products can be found at www.alphauniverse.com, a site created to educate and inspire all fans and customers of Sony α – Alpha brand.