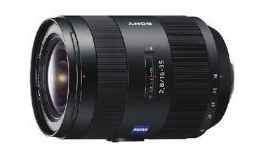 Photozone just tested the lens on the Sony A700. The lens performs very well! The only weknesses are distortion and of course…the high price!
Interesting note. Yesterday they posted the Nikkor AF-S 16-35mm f/4 G review so you can compare both lenses!
Currently the Zeiss ZA Vario-Sonnar T* 16-35mm f/2.8 SSM sells for $1,899.00 on amazon (click here)
.
By comparison: The Nikon lens costs ,259.95