Top 10 Mirrorless Cameras of 2021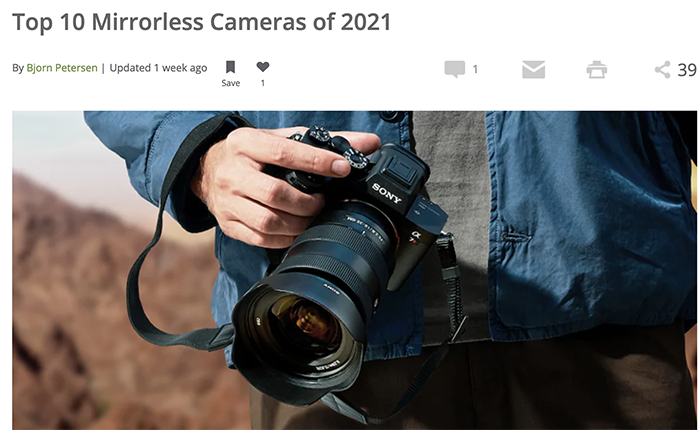 Three Sony cameras made it into the top 10 in the yearly Explora ranking.
The Sony ZVE-10 on 8th place:;
In 2020, Sony released the ZV-1 and made it clear that they saw potential for the vlogging-specific camera. One year later, they've upgraded this idea with the ZV-E10, a camera for content creators featuring the versatility of a mirrorless, interchangeable lens body. The ZV-1 was essentially a take on an RX-series camera, but purpose-designed for vlogging. The ZV-E10 does the same for mirrorless shooters, by essentially adding a vari-angle screen, 3-capsule directional mic, improved audio interface, live streaming support, and a product showcase mode to an a6000-series body. It's a standout camera of the year because it's at the forefront of a new and growing genre of cameras that's likely to continue expanding over the next several years.
The Sony A7IV on 5th place:
One of the later releases of 2021, Sony released the Alpha a7 IV in the Fall and it's almost instantly become one of the hottest cameras of 2021. Sony's a7-line—not the R, not the S, just the plain a7—has been a true sweet spot camera for years and this fourth iteration continues this concept with the tagline of "beyond basic." It features a new higher resolution 33MP sensor (finally graduating from the 24MP level), 4K 60p 10-bit internal recording, and Real-time Eye AF and Tracking. It uses much of the processing power of the flagship-tier a1 but manages to remain the approachable camera that's appealing to all sorts of shooters.
The Sony A1 on 2nd place:
Sony's Alpha 1 was one of the first mirrorless cameras to show exactly what's truly possible in mirrorless camera development right now, when everything is turned up to 11 to create one of the most well-rounded, well-spec'd cameras to come around in some time. usually, cameras excel at speed but lack in resolution, prioritize video over stills, or make some other kind of concession to prioritize a certain kind of shooter—not with the a1. Sony tricked this camera out with a high res 50MP stacked sensor that's capable of outputting 8K 30p video, 4K 120p video at 10-bit, or full-resolution stills with a 30-fps continuous shooting rate. Besides having chart-topping specs in both photo and video realms, its mundane specs are even hugely impressive… things like a 1/400-second flash sync speed, 1/200-second sync with an electronic shutter, 9.44m-dot OLED EVF, and blackout-free viewing due to the fast readout speeds from the stacked sensor design. The Alpha 1 is a lot of camera; it's almost like having an a7S, a7R, and a9 all wrapped up together, but somehow it still manages to have the same svelte form factor and familiar appearance.
On first place you have the new Nikon Z9.