William J. Claff claims the A9 has more than one stop advantage over the Nikon D5 at Low ISO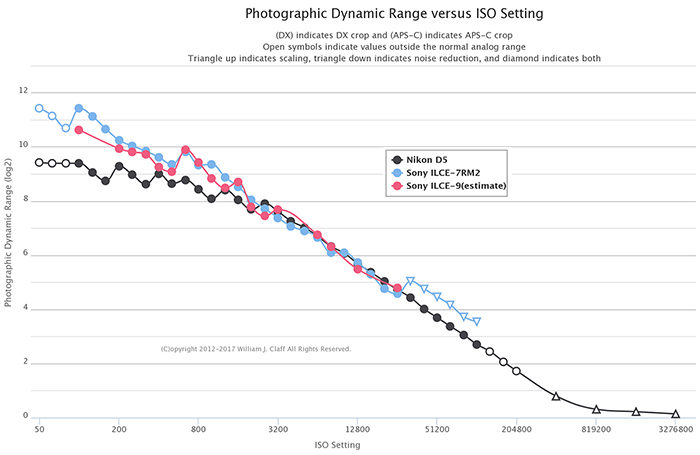 Image by J.Claff from photonstophotos.net
William J. Claff posted the graph above showing the revised Estimate of Sony A9 Photographic Dynamic Range (PDR). It shows that at low ISO the A9 is around 1 stop behind the A7rII but 1.2 stops better than the much more expensive direct competition from Nikon (D5).
Yesterdays Dpreview article created some surreal discussions on the web. If you think cool minded it is obvious the A9 doesn't have the same A7rII Dynamic range performance. With double the pixels the A7rII is also the class leader in the FF world.
Moreover: The A9 is made for sports photography! And sports cameras are by nature trimmed to perform best at mid ISO settings because they mostly use the camera at fast shutter speed. If you complain about the A9 not having a good performance as the A7rII at ISO 100 it would be like complaining the A7sII has no 50 megapixel :)
What matters is that REAL professional photographers shooting with the Nikon D5 or Canon 1D now can have a camera with much higher dynamic range and speed…the Sony A9!
Some more good news: Jeremy Smith tested the A9 under condition he would typically see banding. And his quick and dirty conclusion is that the A9 has no banding issues (see video below). But I would hold on judgments until we see more because some other tester reported some minimal banding in mixed light conditions.
Focus Numerique tested the A9 noise performance:
You can easily push to 1,600 or even 3,200 ISO without any hesitation and even at 6,400 ISO, the pictures are really impressive.
There is also a field test from London Camera exchange:
Sony A9:
Sony A9 at BHphoto, Adorama, Amazon, BestBuy. FocusCamera. Calumet.de. Park UK. Wex UK. Jessops.
Sony A9 with Grip Extension Kit at BHphoto, Adorama and Amazon.
Note: US readers preordering the A9 at BHphoto or Adorama using our links (and our affiliated links only!) have a chance to win a Sony A9.
100-400mm GM:
Sony 100-400mm GM at BHphoto, Amazon, Adorama, BestBuy. Calumet.de. Park UK. Wex UK. Jessops.
Sony A9 accessories:
Sony A9 battery grip at Adorama, Bhphoto, Amazon. Wex UK. Jessops.
Sony A9 Glass screen protector at Adorama, BHphoto, Amazon.
NP-FZ100 battery for the A9 at Adorama, BHphoto, Amazon. Jessops.
GP-EX1 grip at Adorama, BHphoto, Amazon. Wex UK.
FDA-EP18 eye cup at Adorama, BHphoto.
MQZ1 multi battery charger at Adorama, BHphoto, Amazon. Wex UK.
BCQZ1 Z-series Battery Charger at Adorama, BHphoto, Amazon.
Join our new Sony A9 Facebook group!