UPDATE: Zeiss post a full Q&A about the new Batis lenses (are exclusively made for E-mount. More lenses to come.)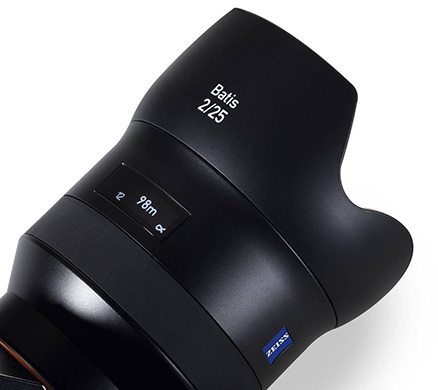 On Facebook Zeiss explained why the new Batis lenses have that unique OLED screen:
Our new ZEISS Batis lenses feature an OLED display. We decided to integrate it in response to many customer requests that we received after the introduction of previous ZEISS lenses. The display shows the focus distance and depth of field and can be reliably read in poor ambient light or in the dark. By the way, the distance unit can be easily changed from meters to feet.
UPDATE: Right now Zeiss posted a full Q&A about the new lenses: blogs.zeiss.com/photo/en/?p=5983. Here are a couple of tidbits:
The ZEISS Batis lenses are protected against dust and splashes (not waterproof) and are therefore suitable for use in everyday weather conditions. They are designed for use at temperatures ranging from -10 °C to +55°C.

ZEISS Batis lenses are designed exclusively with E-mount for use on mirrorless system cameras with Sony E-mount.

Additional focal lengths will follow. Right now, we do not wish to publish any further details.
One more thing: A couple of new Batis image samples can be found on SonyAlphaForum (Click here) and by Michael Kormos (Click here).
Both lenses are now available for preorder in USA and Europe (UK/Germany)
Zeiss Batis 85mm f/1.8 lens in US at Adorama, Bhphoto. In Eu at Amazon DE, WexUK. In Asia at Digitalrev.
Zeiss Batis 25mm f/2.0 lens at Adorama, Bhphoto. In EU at Amazon DE, WexUK. In Asia at Digitalrev.
Lens shade for 85mm at Adorama, Bhphoto.
Lens shade for 25mm at Adorama, Bhphoto.