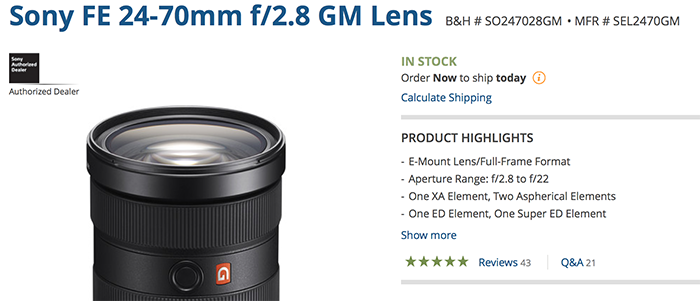 It's again back in Stock: The new Sony 24-70mm GM lens is at BHphoto (Click here). Thanks Terry for sharing the finding!
And ePhotozine posted the full lens review:
Zoom lenses do have strengths and weaknesses in their performance, but there is little to complain about with this Sony G Master. Any sacrifice in the bald figures is more than made up for with the convenience and versatility a zoom lens represents, and there are precious few sacrifices.
Sharpness at its best is excellent to outstanding, CA and distortion can be addressed in software, although centrally CA is very well controlled anyway. Flare is non-existent. And the bokeh is indeed beautiful, quite sublime. So visually the overall "look" of the images from this lens is highly impressive.