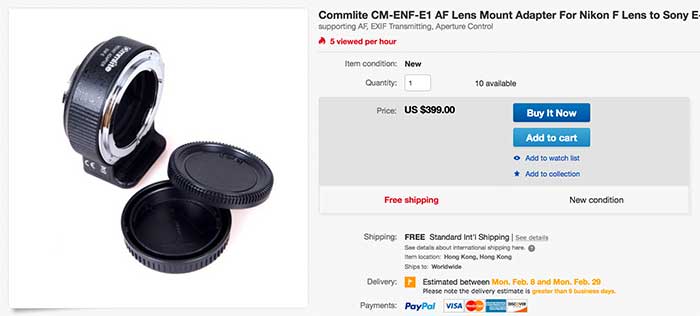 The world's first Nikon F to Sony E-mount autofocus adapter is now in Stock for the first time on eBay (Now sold out!) and at Eachshot (Click here).
Main Features:
1. EXIF Parameter Transmitting;
2. Support AF (for AF-I, AF-S lens with lens' internal motor only)
3. Support Aperture Control (Including the EMD and Pull-rod Aperture type Lens)
4. Support VR Stabilizer Function;
5. Compatible with teleconvertor lens even Aperture less than F8;
6. Support all Nikon F lens in MF mode;
7. Made of Aluminum Alloy, powerful and stable;
8. Standard 1/4 tripod baseplate at the bottom;
A test video can be seen here. Note that there is also a second adapter from Techart which is going on sale soon (test videos here).
This is the compatibility list:

UPDATE: Our reader Animalsbarry made me notice that there is a small disclaimer not that doens't really sound too good. It says: "if you are worried about damage to your lens do not buy".