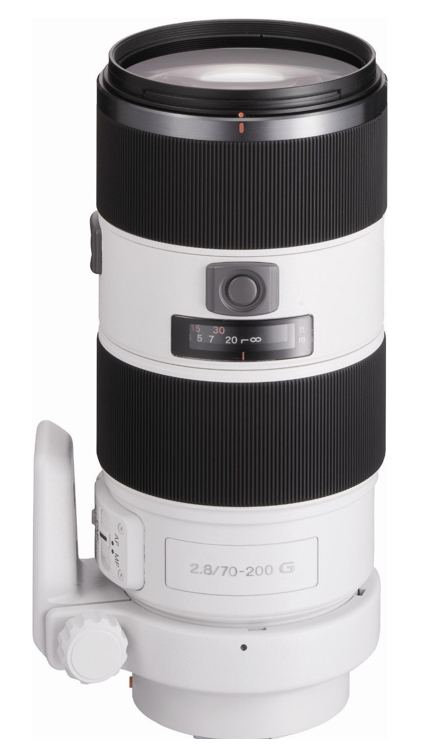 Image on top: The current 70-200mm f/2.8 lens.
Yesterday I told you about Sony's plan to create a new line of lenses that will be weather sealed and have new improved lens design. The first of the new "II G" line up will be the 70-400mm zoom. Today a couple of sources confirmed that Sony will also update the current 70-200mm f/2.8 lens. While I am pretty sure the 70-400mm II G lens will arrive soon I have no info yet WHEN the 70-200mm II G will be released.
P.S.: Links to the current 70-200mm lens at
Australia: Sony.au, Digitalrev, Amazon, Adorama, B&H, eBay.au
Austria: Amazon.at, Sony.at, eBay.at
Belgium: Sony.be, eBay.be
Canada: Sony.ca, B&H, Adorama, eBay.ca
China: Amazon.cn, Digitalrev, eBay
Denmark: Sony.dk, eBay
Finland: Sony.fi, eBay
France: Sony.fr, Amazon.fr, eBay.fr
Germany: Amazon.de, Sony.de, eBay.de
Hong Kong: Amazon, Digitalrev, B&H, Adorama, eBay
Ireland: Sony.ie, Amazon.uk, eBay.ie
Italy: Sony.it, Amazon.it, eBay.it
Japan: Amazon.jp, Rakuten, eBay
Netherlands: Sony.nl, eBay.nl
Norway: Sony.no, eBay
Poland: Sony.pl, Redcoon.pl, eBay
Singapore: Digitalrev, B&H, eBay
Spain: Sony.es, Amazon.es, Redcoon.es, eBay
Sweden: Sony.se, eBay
Switzerland: Sony.ch, Amazon.de, eBay.ch
United Kingdom: Amazon.co.uk, Warehouseexpress, eBay UK
USA: Amazon, B&H, Adorama, J&R, eBay

.
Reminder: There is a Sony announcement on March 13th. Stay tuned here on SAR!