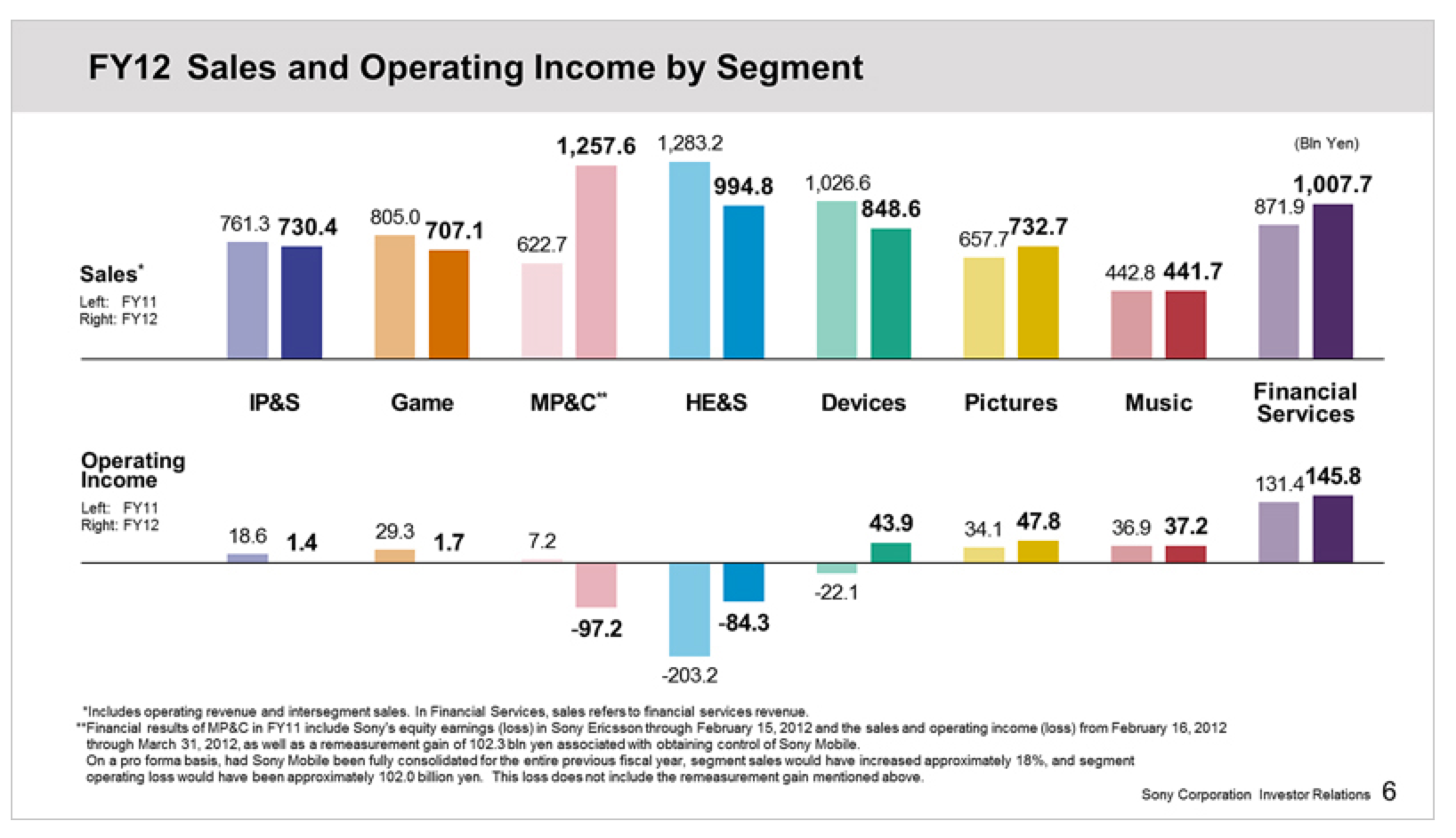 The full financial report from Sony can be downloaded at http://www.sony.net/SonyInfo/IR/financial/fr/12q4_sony.pdf. The slides are available here: http://www.sony.net/SonyInfo/IR/financial/fr/viewer/12q4/
The overall company results: The good news is that for the first time since 2008 Sony made a net profit of $458 million.
Imaging Division: Sales decreased 4.1% year-on-year (a 7% decrease on a constant currency basis) to 730.4 billion yen (7,770 million U.S. dollars). This decrease was primarily due to a significant decrease in unit sales of compact digital cameras reflecting a contraction of the low-end of the market as well as a significant decrease in unit sales of video cameras reflecting a contraction of the market, partially offset by significantly higher sales of interchangeable single-lens cameras and the favorable impact of foreign exchange rates.
Outlook for the Fiscal Year ending March 31, 2014: For March 2014 Sony expects to increase the sales and operating revenue by a +10.3%. The Imaging division should grow to: "Overall segment sales are expected to increase due to a significant increase in sales of broadcast- and professional-use products and interchangeable single-lens cameras. Operating income is expected to increase significantly due to the impact of the increase in sales."
Management focus and topics: In the imaging division Sony has implemented investments for growth such as expanding production capacity for its cutting-edge and competitive CMOS image sensors.
SAR general summary: Sony knows well that to grow in the digital camera market they have to focus on the high end professional market. That is their goal. The NEX system is selling well and sales should increase in this year (thanks to the new NEX-7 successor and new NEX lenses). But it's the future Full Frame Alpha and NEX strategy that will mark the success or fail of their goals. Can't wait to see what kind of (game changing?) products they will announce in early 2014!!!