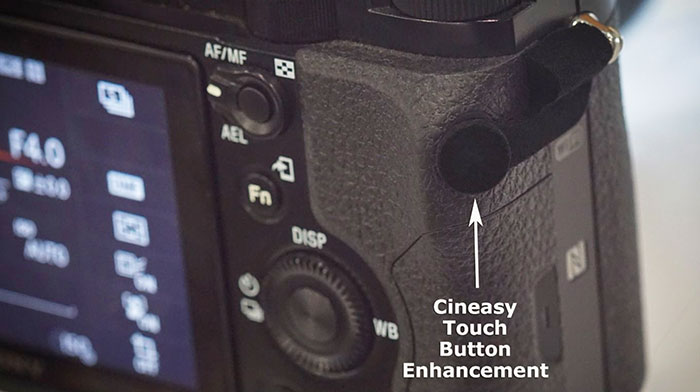 SAR reader Tom Altman created a new tool that some of you could find useful. He sent me this:
The Sony A7S camera is the best video camera in the market. But it has one major challenge when using the video feature. The video record button is too small, awkwardly placed and slightly recessed. This makes it very difficult to activate without much fumbling around. You usually have to remove your eyes from the viewfinder to even locate the button. All this searching and fumbling around can cause shaky footage or missing the action all together.
This is why we created the Cineasy Touch Button Enhancement. This Patent Pending device, for the Sony Alpha line of mirrorless cameras will help your camera to capture pristine video just as easily as it does still images. The Cineasy Touch installs in just minutes and is super intuitive and very responsive. The Cineasy Touch provides a larger point of contact that can easily be found without taking your eye off the action. Simply press the Cineasy Touch and record video intuitively and effortlessly.
You will love it so much you will never remove it from your camera. It simply attaches to the neck strap eyelet nearest the video button with the included screw. Its that simple to make your camera capture video like a professional. And for a limited time you can get yours for the low introductory price of $24.95.
More info
https://vimeo.com/128038653
Model for Sony A7S
http://www.ebay.com/itm/221773014854?ssPageName=STRK:MESELX:IT&_trksid=p3984.m1555.l2649
Model for Sony A6000
http://www.ebay.com/itm/221773016602?ssPageName=STRK:MESELX:IT&_trksid=p3984.m1555.l2649