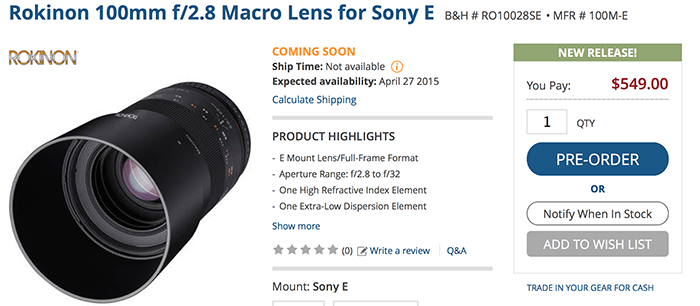 Good news folks! This is the new Rokinon f/2.8 macro lens you can now preorder at BHphoto (Click here). It works well on both Full Frame and APS-C E-mount cameras and it will ship on April 27 already!
Full specs can be read at BHphoto! (Found via MirrorlessRumors and an anonymous source).
Home in on close-up subjects with the Sony E mount 100mm f/2.8 Macro Lens from Rokinon, which affords life-size 1:1 magnification along with a minimum focusing distance of 1′. This manual focus portrait-length lens also incorporates one high refractive index element and one extra-low dispersion element into its design to reduce chromatic aberrations and distortions throughout the focusing range. An Ultra Multi-Coating has also been applied to minimize flare and ghosting for increase contrast and color neutrality. A long focal length lens with close focusing abilities and a high magnification ratio, this macro lens is ideal for making close-up, detailed images of nearby subjects.

This 100mm f/2.8 lens features a Sony E mount, and is compatible with full-frame sensors or APS-C sensors, where it will provide a 150mm equivalent focal length.

A bright f/2.8 maximum aperture is useful for working in a variety of lighting conditions and the minimum f/32 aperture helps to attain a long depth of field when working with close-up subjects.

One high refractive index element and one extra-low dispersion element help to control chromatic aberrations and minimize distortions throughout the focusing and aperture ranges.

An Ultra Multi-Coating has been applied to lens elements to reduce lens flare and ghosting for increased clarity, contrast, and color fidelity.

Featuring a macro design, this lens affords a 1:1 maximum magnification ratio along with a minimum focusing distance of 1′.

Benefitting working with especially close subjects, this manual focus lens features an internal focus design to maintain the overall lens length during use. Additionally, the front filter mount does not rotate when focusing to better enable the use of polarizers, graduated ND, and other filter types that require precise positioning.

A rounded nine-blade diaphragm contributes to a pleasing out-of-focus quality when using selective focus or shallow depth of field techniques.
Sony Deals:
Zeiss FE Distagon lens is in Stock at Amazon US (Click here) and Adorama (Click here).
Back in Stock: Refurbished Zeiss FE 5mm lens for $749 at Secondipity eBay US (Click here)
Til April 4 deal: Sony DSC-HX50V/B at cart(!) is $219.99 +LR5 +$20.00 GC at Focus Camera (Click here).