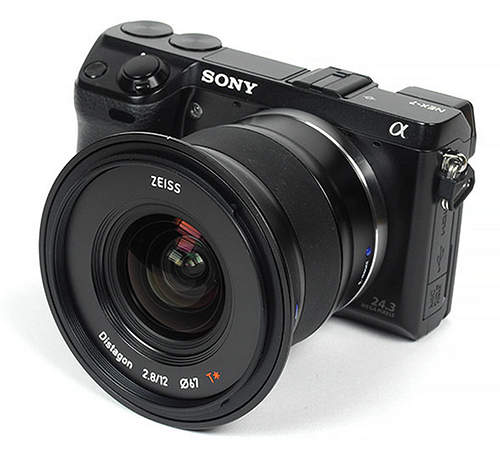 Image courtesy: Photozone
Zeiss Touit 12mm at Photozone:
Ultra-wide angle lenses are never really perfect. However, within its scope the Zeiss Touit 12mm f/2.8 delivers decent results. The center quality is great and the border and corner quality are good to very good at mainstream settings. The low lateral CAs contribute to the high sharpness perception. The distortions are fine at 2% – this is a normal value for such a prime lens and lower than on most conventional zoom lenses for sure. However, the vignetting is very high especially at max. aperture.
Photozone also reviewed the 32mm Zeiss Touit and writes:
The Zeiss Touit 32mm f/1.8 didn't really convince us – at least on the NEX 7. The image center is sharp straight from the max. aperture and even stunning when stopping down. However, the borders aren't all that hot at large apertures although at least very decent beyond f/4. Lateral CAs may be just visible without being disturbing. Distortions are usually auto-corrected either by the camera or your favorite RAW converter. However, when looking behind the scenes, you can spot higher than expected issues here – which is a bit disappointing for a pricey Zeiss lens.
DSLRmagazine (translation here) compared the new Zeiss Loxia vs the Leica Summicron:
The Leica Summicron-M shows its classical analog in nature, being the center pointer on the corners, while the Zeiss Loxia shows a more "docile" nature's own "flat curve" of digital optics with corrections computer support.